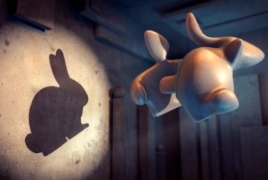 April 20, 2018 - 12:04 AMT
PanARMENIAN.Net - World famous game developed by Armenian company Triada Studio, Shadowmatic introduced a long-anticipated update.
The game already has a new section called "Other Worlds" which features over 30 levels in 3 unique new thematic environments: Space, Music and Ancient Worlds.
Over 30 new levels are available for iOS and tvOS devices.
"In this update, you will travel through time and space, getting to solve the mysteries of ancient centuries, advancing to space and diving into a beautiful world of music", the description of update states.
The new chapter can be unlocked with a single in-app purchase. After the payment is made the following key features become available: new level map, 30 unique levels + 3 secret "hidden" levels, 3 distinct environments, achievements and secondary missions
All the levels are enriched with unique and authentic new music arrangements. The music will be available separately on iTunes as well.
Shadowmatic is a 3D puzzle game which helps developing imagination and improving coordination of movements and speed of reaction. Introduced in 2015, the game is available for all the users of Android and iOS systems for free download.
Shadowmatic earned the highest accolade from tech giant Apple, winning the Apple Design Awards prize in early June, 2015. The game was also named one of the most innovative games of Google Play in 2017.
The game includes 9 rooms and over 70 levels. Each room has a unique atmosphere with a related musical composition that can be downloaded from iTunes. The game is available in 13 languages.
The puzzle scored the Excellence in Visual Art and Media Choice awards at DevGAMM conference awards. It also won the title of Game of the Year for iPhone in China, India and Russia, as well as Best iPhone Games in the United States, Britain, France and Germany. In Hong Kong and Taiwan, the game won in the category Most Innovative Game of the Year for iPhone, and received the title of the Most Brilliant Bestseller for iPhone in Korea. Also, Shadowmatic was named the Best iPhone Game in Japan. The game received many other awards.