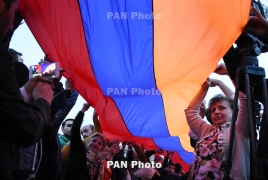 April 21, 2018 - 13:26 AMT
PanARMENIAN.Net - On April 20, during the rally in the Republic Square in Yerevan, the leader of Civil Contract Party and the opposition fraction Way Out, who also initiated the mass protests against the ex-president Serzh Sargsyan becoming a Prime Minister, presented the main requirements the opposition has from the Armenian authorities.
According to Pashinyan, first of all Serzh Sargsyan must resign from the post of Prime Minister of the country. Secondly, the Armenian parliament must elect a candidate for the role of the new Prime Minister from the people. Third- a temporary government must be formed.
Pashinyan also stated that according to the Armenian legislation, within 20 days after a new Prime Minister is elected and a temporary government is formed, parliament must confirm the government program. In case the parliament does not confirm the program, extraordinary parliament elections must be called.
"From now on, only the Armenian nation must be elected", added Pashinyan.
The demonstrations in Yerevan against the ex-president Serzh Sargsyan are being held since April 13. The opposition accuses Sargsyan in inefficient governance of the country and deterioration of the economic situation. On April 16, the protesters tried entering the parliament building however the police prevented their actions. During the mass actions dozens of people were injured. The following day the opposition announced about starting a velvet revolution in Armenia. Despite the protests, on April 17, the Armenian parliament elected Serzh Sargsyan for the post of the new PM. At the same time, the earlier confirmed law on changing the government form to parliamentary which gives the most power to the Prime Minister came into force.