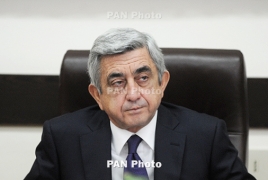 April 21, 2018 - 15:59 AMT
PanARMENIAN.Net - Armenian Prime Minister Serzh Sargsyan made an announcement urging Nikol Pashinyan to have a political dialogue in order to avoid irreversible losses.
In particular, the announcement stated "during the past week list of demonstrations and strikes took place in Yerevan. Each of our citizens has the right to hold peaceful demonstrations. The authorities respect this right and will continue doing so. Unfortunately those mass protests often crossed the line stated by the law and became anarchic. Many announcements by the police confirm these actions. These developments are full of unpredictable consequences. They are dangerous for the public order and endanger the complex and delicate harmony of the Armenian society.
It was also stated that everyone should remember that besides them there are other Armenian citizens who live, study, work and rest in the country. The harmony of our society should be based on solidarity and tolerance.
"I am deeply concerned about the developments in the country. In order to avoid irreversible losses I urge MP Nikol Pashinyan to have a political dialogue. This should be done immediately. I am secure that all the political forces can contribute in forming such a dialogue which will be equivalent to the current situation", the announcement stated.
"When there is no logic in the actions of people it is very difficult to understand what the further developments will be. Unfortunately once before we already passed that difficult road. If they want us to do it again,… What can I say? The Armenian authorities and officials also have this experience and will do everything to avoid the same story", Sargsyan stated earlier during his interview to Shant TV.
After being elected as a Prime Minister, Sargsyan had urged the MPs of Way Out Party to bring Pashinyan to the parliament. "In order for us to live in a bright Armenia, in order for us to live in prosperous Armenia, in order for us to live in just Armenia and country of law Armenia it is necessary that the dead volcanoes remain asleep. And the sleeping volcanoes will not be awaken, if there are no disruptors".
Հայց իշխանություննենը և իրավապահները ևս ունեն այդ փորձը և ամեն ինչ անելու են, որպեսզի խուսափենք»,-ավելի վաղ ասել էր Սերժ Սարգսյանը «Շանթ» հեռուստատեսության եթերում :
ԱԺ-ում ընտրվելուց հետո Սերժ Սարգսյանը կոչ էր արել ՆԵԼՔ-ի պատգամավորներին Նիկոլ Փաշինյանին բերել ԱԺ էր.