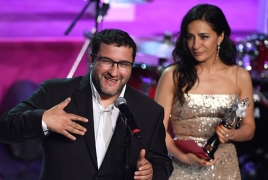 April 27, 2018 - 13:29 AMT
PanARMENIAN.Net - Russian filmmaker Alexander Kott was named the Best Director at the 40th Moscow International Film Festival for his movie "Spitak", dedicated to the devastating earthquake that shook in Armenia on December 7, 1988.
Kott is famous for such films as "Fortress of War" and "Test".
"Spitak" is the story of Gor, who left Armenia in search of a better life but now returns back after the earthquake in order to find his home and family, but it's too late. Everything is destroyed by the disaster, and he has to re-learn to love what he destroyed himself.
The director has described the movie as a Film-Requiem.
Russian director Eduard Novikov received the Golden George for Best Film for his "The Lord Eagle" at the film festival, which wrapped on Thursday, April 26.
The festival is usually held in late June but the FIFA 2018 football contest, which is being held in Russia this year in June and July, meant the festival was shifted to an earlier date.
Almost 30 years ago, a magnitude 6.9 earthquake shook northwestern Armenia followed by a magnitude 5.8 aftershock four minutes later. In the epicenter, the village of Nalband, the tremors were reported to measure 10 on the Richter scale. The earthquake leveled the cities of Spitak and Gyumri, as well as about 60 villages, leaving at least 25,000 people dead, 100,000 wounded and 500,000 homeless.