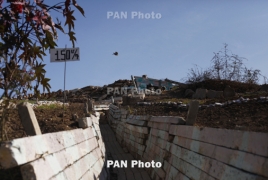 April 30, 2018 - 15:47 AMT
PanARMENIAN.Net - Acting foreign minister Edward Nalbandian on Monday, April 30 had a phone talk with Assistant U.S. Secretary of State for European and Eurasian Affairs Wess Mitchell.
Opposition leader and founder and head of Civil Contract party Nikol Pashinyan leads a campaign against the ruling authorities, which has seen thousands of Armenians take to the streets in massive protests.
Prime minister Serzh Sargsyan was forced to resign on Monday, and Pashinyan is now seeking the appointment as prime minister by the National Assembly of what he calls "the people's candidate," the formation of a temporary government and snap parliamentary elections.
In the past two days, all the parliamentary factions have either expressed support for Pashinyan's candidacy -which was announced on Monday-April 30 - as PM or have at least refused to nominate their own candidates for the prime minister's post.
The two weighed in on the current political situation in Armenia and agreed that every step must be in line with the country's Constitution.
The diplomats also discussed the Nagorno Karabakh conflict, stressing the need for excluding more tensions on the contact line and emphasizing the importance of the OSCE Minsk Group co-chairs' latest declaration.
On April 23, the co-chairs in a message underscored "the critical importance of the sides respecting the ceasefire at this delicate time and, in particular, keeping heavy equipment positioned in the rear of the frontlines."
The co-chairs called on the sides to take immediate measures to reduce tensions, and look forward to meeting with the parties as soon as possible to renew intensified negotiations to find a lasting and peaceful solution to the conflict.
Also, Nalbandian and Mitchell discussed the ways to expand ties between Armenia and the United States.