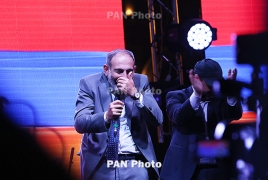 May 24, 2018 - 17:00 AMT
PanARMENIAN.Net - A duo of Russian pranksters claim to have managed to get through to the British foreign secretary, Boris Johnson, and hold an 18-minute phone conversation with him by pretending to be Armenian Prime Minister Nikol Pashinyan.
The duo released audio of the call, which they claimed took place last week, in which one of them pretended to be Pashinyan, the recently appointed prime minister of Armenia.
In the audio, the voice claiming to be Pashinyan speaks English with a Russian accent. He asks for advice on how to deal with Vladimir Putin, and for information about Britain's response to the poisoning of Sergei Skripal in Salisbury.
The voice on the audio sounds like Johnson, though there is no way of telling if the audio has been cut or doctored. The FCO did not immediately respond to a request for comment, The Guradian says.
"We will continue to tighten the squeeze on some of the oligarchs who surround Putin," said Johnson to the man he believed to be the Armenian PM.
Johnson said this had proved the most effective way of dealing with the threat posed by Russia, saying "you throw a stone in Kensington and you'll get an oligarch".
Alexei Stolyarov and Vladimir Kuznetsov, known by their prankster monikers Lexus and Vovan, have claimed a number of high-profile victims, including posing as the Ukrainian president, Petro Poroshenko, in a call with the Turkish leader, Recep Tayyip Erdoğan. They also spoke with Elton John while pretending to be Vladimir Putin.
At the start of the call, the foreign secretary jovially congratulated his interlocutor on his recent appointment as Armenian prime minister, and when pressed on whether he was certain Russia was behind the Salisbury attack said "we're almost 100% sure" and offered to share further, non-public evidence.
"If I have a message to Putin, it's that we don't want a cold war but we do want to see an improvement in the way Russia behaves," he said.
Johnson asked several times for clarification when towards the end of the call he was told by the fake Pashinyan that during a meeting with Putin, the Russian president had told him he was financially supporting the UK Labour party.
Shortly afterwards, it appears the call was cut off abruptly from the UK side, possibly after the penny finally dropped that the voice on the other end of the line was not that of Pashinyan.