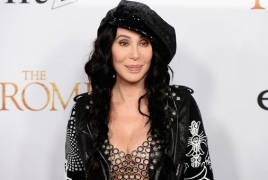 May 25, 2018 - 10:58 AMT
PanARMENIAN.Net - Cher is adamant that "luck" is the driving force behind her international success, AceShowbiz says.
The music icon rose to fame in the 1960s as one-half of the folk-rock duo Sonny & Cher and has since gone on to have successful music and acting careers, including winning an Oscar for her performance in 1988 movie "Moonstruck".
Now, the Armenian-American diva is gearing up to start promoting her role in "Mamma Mia! Here We Go Again", and in an interview for Harper's Bazaar magazine with one of the film's executive producers, Rita Wilson, she insisted that her longevity in Hollywood is all down to having a bit of luck.
"You can be all kinds of things, but if you don't have luck, no one will know it. I knew what I was gonna do when I was four. By the time I met Sonny (Bono), I was just unharnessed energy," she shared. "And he said, 'Okay, we need to do something with this.' I didn't even have confidence. So, I've just done all of it with luck."
The 72-year-old added that throughout her career she has often recalled her mother's advice.
"My mother said to me when I was very young, 'You won't be the prettiest, you won't be the most talented, you won't be the smartest, but you are special,'" she smiled.
The "Believe" singer, who has starred in movies like "Mask" and "Silkwood", went on to discuss her friendship with "The Iron Lady" star Meryl Streep, admitting she's a "big fan" of the actress.
Streep is yet to confirm whether she will return to the ABBA-themed sequel, with official trailers for the film remaining vague over her character Donna.
"I met Meryl for the first time in a sushi place in Texas when we were working on Mike Nichols' Silkwood," Cher recalled. "I walked in, and she came over and hugged me and said, 'I'm so glad you're here.' We were together all the time after that.
"We used to go to the movies on Sundays. When I was in New York, I would go to her house every day."