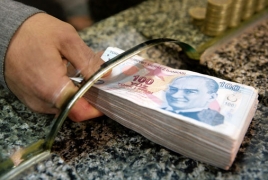 May 31, 2018 - 14:38 AMT
PanARMENIAN.Net - Turkey's outreach to minorities sees a boost in funds for dailies and weeklies published by those communities. A state-run agency will hand out TL 200,000 ($44,838) to publications in the Greek, Armenian and Jewish communities, Daily Sabah reports.
The program was launched in 2011 to help financially struggling press outlets belonging to communities concentrated in Istanbul. Every year, an average TL 150,000 is allocated for newspapers. The Press Advertising Authority (BİK) oversees the program that aims to promote freedom of expression. Weeklies will be granted TL 28,000 each, while dailies will receive TL 36,000. The only requirement to be entitled to funds is that the publication has to have been in circulation for at least 10 years.
Since 2011, BİK has supplied cash assistance of TL 1.1 million to minority newspapers, including Normarmara, Jamanak, Apoyevmatini, Agos, İho and Şalom.
Long treated as second-class citizens, the Greek, Jewish, Armenian and Syriac communities have lauded the efforts for the return of their rights, although they have complained about it being a slow process.
1.5 million Armenian were killed in the Genocide of 1915-1923 at the hands of the Ottoman Empire. While some three dozen countries, as well as a number of international organizations and local government bodies have recognized the Genocide, Turkey denies to this day.