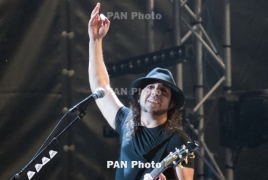 June 2, 2018 - 13:31 AMT
PanARMENIAN.Net - "System Of A Down" guitarist Daron Malakian has said that writing songs is a way for him to express his pride in being Armenian, how he feels about his culture, background and roots.
"As an Armenian, we grew up learning about what happened to our grandparents and great-grandparents in the Genocide," Malakian said in an interview with Revolver magazine.
"Even though I always want to pay respect to those who died, "Lives" is more about the people who survived and their grandchildren down to who we are now. I wanted to give a morale booster to my people. Instead of dwelling on how this happened to us, and our lands were taken away, and one-a-half-million of us or more died. I wanted to shine a light on the people who survived, and where we have come since then."
"I always try to express myself in song. I'm not the guy that stands on a pedestal and tells people how to think. My pride in being Armenian has always been expressed in song. So "P.L.U.C.K." and "Holy Mountain" are both songs that I wrote. This is another one that expressed how I feel about my culture and my background and my roots. I'm not much of a political activist at the end of the day," the musician said.
"For me, the Armenian Genocide and singing about Armenian topics have nothing to do with politics. Other members of my band have a different way of expressing themselves about these topics. But for me, I always like to express myself in songs and lyrics and leave it there and not get too preachy about it."