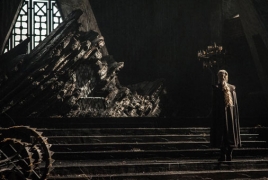 June 2, 2018 - 16:48 AMT
PanARMENIAN.Net - "Game of Thrones" fans have a long time to wait before the highly-anticipated final season of the HBO hit airs. But who will end up on the Iron Throne, if anyone at all?
Those who have been invested in the hit seriesare desperate to know how the HBO show will end.
It is still up in the air who will end up on the Iron Throne, but one former star of the show believes no one will get it.
There are multiple contenders in line for the Westeros title, such as Jon Snow (played by Kit Harington) and Daenerys Targaryen (Emilia Clarke).
Now, Brenock O'Connor, who played Olly, has revealed he thinks no one will get the Iron Throne, Express reports.
When quizzed at the recent premiere of The Bromley Boys on who he believes will own the crown, he revealed: "I really want to say the Night King.
"It's been leading up - there's so many premonitions…
"Or just no one - everyone wipes each other out and there's just no one left!
"There's that whole scene with Daenerys in the snow in the empty Throne room so I thought maybe it was a throwback to season two but I think it's got relevance.
"Everyone dies. George R.R. Martin's been saying it from the start.
"It's not going to end happily. As Tyrion [Lannister] says, if you think this has a happy ending, you've not been paying attention."
Brenock was part of one of the show's most iconic scenes when his character murdered Jon.
He revealed when the scene took him by surprise.
He said: "I had no idea it was coming until three weeks before because they send scripts two episodes at a time.
"But I was like, 'Wow this is huge and people are going to hate me'.
"I'd taken out Ygritte the year before so I was like, 'I'm taking them all out!'."
The 16-year-old also confessed how he knew that move would mean the end of his character.
Brenock confessed: "I knew when I was coming back - if I was back for season six - there was no way I was going to survive.
"There was no way those characters could get away with it."
In the show, Olly was eventually killed for his crimes through hanging.