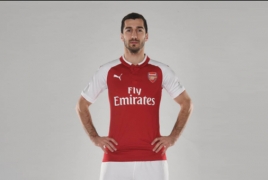 June 11, 2018 - 16:58 AMT
PanARMENIAN.Net - Arsenal made a splash, bringing in Henrikh Mkhitaryan, and as the Armenian settles, he may provide more upside than Mesut Ozil, Fansided says in an article by sports writer Josh Sippie.
"Arsenal's dependency on Mesut Ozil brought about far too many problems over his time at the club. As has been discussed – when Ozil is good, he's great. But when he's bad, the team suffers around him. While it probably wasn't that high on the list to find him a foil, it became a big deal when Alexis Sanchez went on his hissy-fit and had to be sold," the article says.
"In came Henrikh Mkhitaryan, who was like a higher energy Mesut Ozil. Maybe he wasn't as consistent at creating chances, but he made up for it with his endless energy and his quick trigger.
"Just like that, we had found a counterweight to Ozil. With two No. 10's, the Gunners had one hell of an engine room to make this attack work.
"We have only scratched the surface with Mkhitaryan. It is not unreasonable to think that he can overtake Ozil. And by overtake, I mean become a bigger force on the attack and, yes, even tally up more assists."
Simply put, this team is going in a direction that helps Mkhitaryan far more than it helps Ozil, the article says. Unai Emery, according to Sippie, has spoken about his desire to play high-intensity pressing in the attacking third of the pitch. He has played that way in the past. That has Mkhitaryan written all over it, and no Ozil's written on it at all, Sippie says.
"But it goes deeper than that. Mkhitaryan has a rapport already in existence with Pierre-Emerick Aubameyang. That rapport has already paid dividends and it will continue to, because these are two guys that know each other and work well together," the article says.
"It gives Mkhitaryan an extra leg up on Ozil, who may become his competition, depending on how Emery lines the club up.
"All I know is that Mkhitaryan, when he had a team built to his liking, put up 13 goals and 20 assists. Finding his specifications is pretty simple – it's everything that Emery is currently building towards, with an added dose of familiarity around him.
"Mkhitaryan's stock is on the rise and Ozil's isn't. Even with Ozil's new contract, it's hard not to see Mkhitaryan in finer fettle than his counterpart.
"Of course, none of this matters until we see what Emery wants to do with the team, but despite the reputation that Ozil carries, and the possibility that he starts on the front foot, Mkhitaryan has the tools to catch up and overtake him."