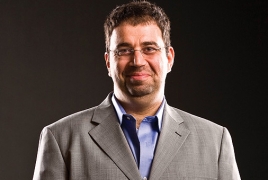 June 12, 2018 - 18:17 AMT
PanARMENIAN.Net - Armenian citizens should take center stage in systemic reform processes following the peaceful revolution in the country, prominent Armenian-American economist Daron Acemoglu said in an interview with the Voice of America.
Weighing in on the Diaspora's role, Acemoglu said while Armenians abroad do play an important role, they should provide support in two directions - moral support and investments.
"Sometimes, however, some Diaspora representatives try to direct the processes from outside, which, I am sure, is wrong," the economist said.
Acemoglu said he has spoken to Prime Minister Nikol Pashinyan twice and is now in the process of determining the right time for his visit to Armenia.
"But I am first trying to understand what challenges the new government faces and how it is going to handle them," said the economist, adding that he will hopefully be able to give real advice and recommendations and not just visit the country as a tourist.
Acemoglu, a U.S.-based economist and professor at the Massachusetts Institute of Technology (MIT), agreed to help restore Armenia's economy after the country elected a new Prime Minister following weeks of peaceful protests and a campaign of civil disobedience.
A member of the American Academy of Arts and Sciences and a laureate of the John Bates Clark Medal (2005), Acemoglu is among the 10 most cited economists in the world.