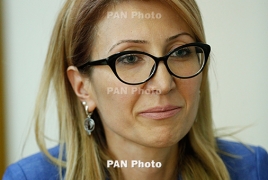 June 12, 2018 - 18:59 AMT
PanARMENIAN.Net - Minister of Labor and Social Affairs Mane Tandilyan announced her resignation on Monday, June 12, one month after she accepted the job.
The reason behind Tandilyan's decision, she said, was the differences in her perception of the implementation of the mandatory funded pension system and that of the government.
Tandilian, in particular, proposed pushing back the introduction of the mandatory system one year and change it through public discussions.
"This road was full of challenges too, but I expressed readiness to organizethe entire process by carrying out large-scale work with the wide sections of the society to find the best and most acceptable solution," she said.
"It turned out after lengthy discussions that my proposal was not supported by the government. Instead, a new proposal was submitted to the government and subsequently approved."