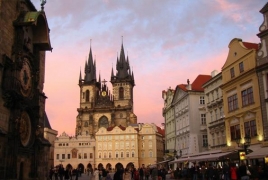 June 16, 2018 - 11:40 AMT
PanARMENIAN.Net - The Czech Photo Centre is showcasing the photography of Josef Bosák in a show called "Piece of Armenian Soul",which runs until August 12, Prague TV reports.
Bosák holds of the Fédération Internationale de l'Art Photographique's AFIAP (Artiste FIAP) and EFIAP (Excellence FIAP) distinctions.
He visits Armenia and the Nagorno Karabakh every year, and the show conveys some of what he has experienced in his travels. The exhibition features photographs of elderly people as well as young people and children to trace Armenia's troubled history.
"The mountainous Armenian landscape, marked by a troubled history and the suffering of its people through the decisions of politicians and relentless conflicts between Christians and Muslims, has become the author's great focus. Despite all the injustice committed against the local population, Bosák says the native Armenians remain very friendly people with a great sense of hospitality," the description of the exhibition states.
Bosák began taking photographs in 2003. In 2007, he visited Armenia and began to focus on capturing the human form and social journalism.
During a recent visit, he was an eyewitness to political events where the leader of anti-government protests, Nikol Pashinyan, became prime minister.
He visited the Karabakh Hospital numerous times over three years. These photos have been well-received in international photography contests.
Visitors to the Czech Photo Centre's small hall can view the Every Tuesday exhibition until July 1. The photos cover a range of topics from body image to sports to familial relations.