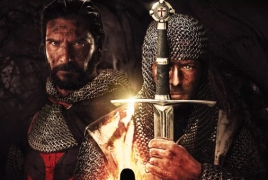 June 22, 2018 - 11:03 AMT
PanARMENIAN.Net - Arrow in the Head founder John Fallon ('American Muscle', 'The Shelter') is returning to the director's chair with "Heretic", a period thriller that will star Paul Sloan (Nation's Fire, Vigilante Diaries) and Mark Lawson (One Life to Live), Bloody Disgusting says.
Oscar Gold Productions' Asko Akopyan is producing the film slated to shoot entirely in Armenia in 2019.
In the film, "When two Templars are sent home after losing the second Crusade, they are forced to battle a slew of varied enemies, the pity-less elements and their own inner demons while trying to elude a mysterious assassin who is hunting them down."
"Heretic" was co-written by Fallon and Karim Cheriguene ('Horsehead'). Marc Natoli of Natoli Productions ('The Proposal') is co-producing alongside Fallon's Bruise Productions banner and JoBlo Movie Productions.