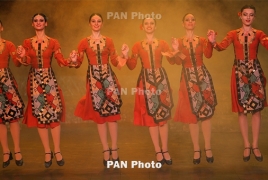 June 26, 2018 - 17:41 AMT
PanARMENIAN.Net - Smithsonian Magazine has unveiled one more peace about the Armenian culture, particularly about the age-olddances, which, according to the magazine have helped preserve the Armenian culture.
As part of the 52nd annual Smithsonian Folklife Festival this summer, scores of dancers from Armenia and across North America will perform, present master classes and share technique. The cultures of Armenia and Catalonia will be featured in the festival on the National Mall in Washington D.C. June 27 to July 1 and July 4 to 8. And as part of the "Armenia: Creating Home" program, dance will loom large among other presentations of food, wine and artisan craft. The "Handes! Armenian Dance Summit," during the second weekend of the Festival, July 6-8, is the first U.S. event to bring together such wide-ranging groups from North America and Armenia, says Carolyn Rapkievian, an assistant director for interpretation and education at the Smithsonian's National Museum of the American Indian, who is serving as an Armenian dance advisor for this year's Folklife Festival.
The dance traditions of individual villages, separated by mountainous topography had been unique to each town. But with the Armenian diaspora, the dancing, which continued as a way to keep connected to the old country, became even more individualistic, Rapkievian says, noting that the dances were further influenced by the host countries.
Dances of eastern Armenia, developed a Caucasian style of dance influenced by members of the Russian ballet who came into the territory incorporating acrobatics and ballet in performances that were often designed for the stage, not participation.
Western style, is a more communal style used at weddings and picnics, and has a certain earthiness seen in foot stamping by men, and rarely is performed before the public. It was exported to America when Armenians immigrated to the U.S.
Gary and Susan Lind-Sinanian, dance historians at the Armenian Museum of America in Watertown, Massachusetts, say traditional western Armenian music and dance remained an important cultural touchstone for the immigrating community.
"As the Armenian language fell into disuse among many American-born Armenians, the music and dance gained even more importance, as one of the remaining avenues of cultural identity maintenance," they have written. "Today, this music and dance have developed into a characteristic form unique to the United States, and one of the principal means that today's Armenian-American youth assert their Armenian identity."
While there are variations in how the dance is performed, "a lot of Armenian dances are done in an open circle, the leader is usually moving to the right," Rapkievian says. Also, "there are beautiful movements with the women's hands that is one of the things you don't necessarily see in other cultures."
Yet there are similarities to Middle Eastern dancing partly because of the instruments used, which include stringed instruments such as the oud and kanun, the violin-like kemenche and various modes of percussion.
But there are time signatures that depart from Western music's usual 3/4 or 4/4 measure. "In Armenian music, in addition to that, we have 5/4, which I like to say is like our heartbeat," Rapkievian says. "In the Black Sea area, we have 7/8 rhythm and the Tamzara has a 9/8 rhythm. So, we have unusual rhythms."