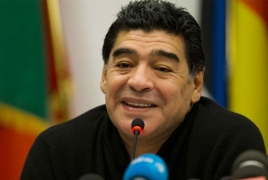 June 27, 2018 - 12:24 AMT
PanARMENIAN.Net - Diego Maradona has eased fears over his health after needing to be seen by paramedics during Argentina's dramatic 2-1 victory over Nigeria on Tuesday night, with the World Cup legend insisting: "I am fine," The Independent reports.
Maradona was at the St Petersburg Stadium to cheer on Argentina in their must-win encounter against the African nation, with a late goal from Manchester United defender Marcos Rojo ensuring that the 2014 World Cup finalists beat both Nigeria and Iceland to the second qualification berth in Group D.
Maradona, a two-time World Cup winner with Argentina, was very much the centre of attention throughout the evening as he waved to fans, soaked up their adulation and passionately cheered on the South American side. He also landed himself in controversy after being shown on live television swearing at fans in the immediate aftermath of Rojo's winner, and appeared to shout "up yours".
However, fears were quickly raised over his half after videos emerged on social media showing Maradona being assisted from his seat, before a picture of him with paramedics surfaced. Reports claimed that he was taken to hospital, but Maradona himself has announced that he did not require hospital treatment.
Explained what was wrong with him, Maradona said on Instagram that he was suffering from neck pain at half-time and had ignored medical advice to go home before the end of the game.
"I want to tell everyone that I am fine, that I am not [ill], neither was I [admitted to hospital]," Maradona wrote.
"At half-time of the game against Nigeria, my neck hurt a lot... I was checked by a doctor and he recommended me to go home before the second half, but I wanted to stay because we were risking it all. How could I leave? I send a kiss to everyone, thanks for the support!"
Maradona had earlier been filmed manically celebrating Rojo's late winning goal and swearing at supporters and was branded a "laughing stock" by BBC presenter Gary Lineker.
As television cameras swung his way, seconds after the ball hit the back of Nigeria's net, Maradona thrust middle-finger gestures with both hands.