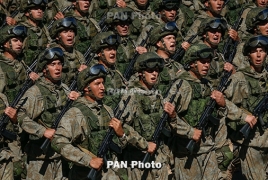 July 11, 2018 - 10:56 AMT
PanARMENIAN.Net - The Russian Defense Ministry denied media reports about the alleged deaths of Russian servicemen in Syria as a result of an alleged attack carried out by the Islamic State militants, Al-Masdar News says.
According to the Russian ministry that called the media reports fake, "there have been no losses among the Russian servicemen, either in the Daraa province on the territory of the Syrian Arab Republic as a whole."
The ministry slammed the information as "deceitful" and "deliberately spread by Daesh terrorists."
On December 11, 2017, Russian President Vladimir Putin ordered the withdrawal of Russian troops from Syria after more than two years of successful struggle against terrorist organizations; however, a permanent group of the Russian military remains at the military bases at Hmeymim and Tartus on the territory of the Arab Republic.
On September 30, 2015, Russia launched an air campaign initiating airstrikes against terrorist targets in Syria at the request of Syrian President Bashar Assad.