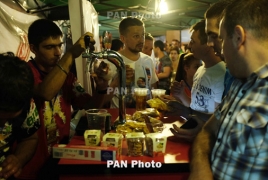 July 25, 2018 - 17:37 AMT
PanARMENIAN.Net - Light alcohol use is associated with increased cognitive function in older adults; an effect that is stronger in women and diminishes with greater alcohol consumption. This research was presented at the 2018 Alzheimer's Association International Conference, held July 22-26, 2018 in Chicago, Illinois, according to Neurology Advisor.
Participants were drawn from the Health and Retirement Study, which provided multiple observations, genetic information, and previous alcohol use. To determine the degree of alcohol consumption, the study researchers inquired about whether each participant consumed alcohol and, if so, the number of drinks per day. Light drinkers were categorized as drinking ≤1/day for women and ≤2/day for men, while low numbers of heavy drinkers resulted in integrating the categories for moderate and heavy drinkers. Self-reported diabetes, previous heart condition, and stroke, as well as sex, age, race, education, and APOE ε4 positive status were used as age-varying covariate factors. Cognitive change over time was assessed using mixed effects models.
This study included 7900 individuals aged at least 65 years, 33.5% of whom reported use of alcohol at the time of the study. The Telephone Interview for Cognitive Status was used to evaluate mental function. Those who reported light alcohol consumption scored higher on this metric than others (β=0.32; P