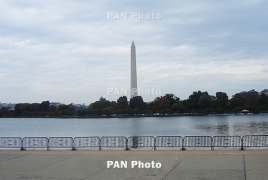 July 27, 2018 - 10:59 AMT
PanARMENIAN.Net - Armenian Minister of Justice Artak Zeynalyan outlined the new government's vision as to the evolution of the Armenian Freedom of Conscience law at the first-ever Ministerial to Advance Religious Freedom held on July 24-26 in Washington, D.C on, Armenia's Embassy in the United States said in a tweet.
Addressing the gathering attended by U.S. Vice President Mike Pence and other senior officials, Zeynalyan expressed concern over the fate of the Armenian cultural and Christian heritage in Azerbaijan.
Also, the Armenian Justice Minister weighed in on the plight of Christians in the Middle East.
This ministerial, the first of its kind, brought together high senior officials, activists and NGO's from some 80 countries around the globe to look basically at three main issues: