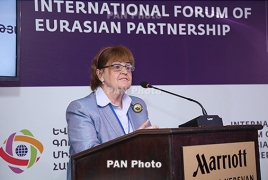 July 27, 2018 - 12:04 AMT
PanARMENIAN.Net - The Armenian National Committee of America – Western Region announced that it will bestow its 2018 "Advocate for Justice" Award to Baroness Caroline Cox, a Member of the British House of Lords, at the 2018 ANCA-WR Gala in recognition of her consistent efforts aimed at advocating the interests of Artsakh and its people, as well as bringing international attention to the plight of Artsakh and the injustices waged against it by Azerbaijan.
"Over the course of three decades, Baroness Caroline Cox has consistently utilized her powerful voice and all resources at her disposal to bring peace and justice to the Armenian people of Artsakh and to highlight the aggressive actions of the Azeri government and military against freedom-loving people who simply want to live in an independent state of their own choosing. As such, Baroness Cox is highly deserving of the ANCA Western Region's prestigious Advocate for Justice award, and we look forward to her traveling from Britain to allow our community to publicly recognize her and express our collective gratitude for all she has done and continues to do for Artsakh and for our Cause," stated Nora Hovsepian, Chair of the ANCA-WR.
British House of Lords Member Baroness Cox has visited Artsakh 86 times from as early as during the Artsakh War between 1988-1994 to most recently last August. As a former registered nurse, she saw the need for a rehabilitation center in Artsakh following the war and established the Lady Cox Rehabilitation Center in 2000. Since then, the Lady Cox Rehabilitation Center, which provides high-quality, specialized, medical care each year to approximately 1,000 local and regional patients, has treated over 15,000 people to date. Among those receiving treatment – both at the Center and in their homes – are patients with spinal cord injuries, elderly stroke victims, infants and children born with disabilities, such as cerebral palsy and spina bifida, and of course casualties of war, including amputees and others who have been maimed or disabled as a result of Azeri landmines and attacks.
The Lady Cox Center sends trained rehabilitation nurses to communities across Artsakh, serving those who do not have access to the Stepanakert location. The Center strives to dispel cultural stigmas, many rooted in the Soviet-era, associated with disabilities, and works – via speech, occupational and other therapies – to ensure that its patients are given the opportunity to live happy and fulfilling lives.
As a member of the British House of Lords, Baroness Cox has led multiple delegations to Artsakh and has met with Artsakh President Bako Sahakyan and other current and former local officials. In her 2013 visit, President Sahakyan awarded her with the "Mesrop Mashtots" medal for her contributions to the development of the Artsakh Republic and her humanitarian accomplishments. She is also the recipient of the "Mkhitar Gosh" medal, which she was awarded in 2006. In 2004, Baroness Cox also founded the Humanitarian Aid Relief Trust (HART), which works to provide lasting change through aid and advocacy for those suffering oppression and persecution, who are largely neglected by the international media. HART is also privileged to support the Lady Cox Rehabilitation Center in Stepanakert and has helped it become an internationally recognized center of excellence.
In recognition of her work in the international humanitarian and human rights arenas over the past thirty years, she has been awarded the Commander Cross of the Order of Merit of the Republic of Poland; the prestigious Wilberforce Award; the International Mother Teresa Award from the All India Christian Council; and the anniversary medal presented by Lech Walesa, the former President of Poland, at the 25th anniversary of the Polish Solidarity Movement. Lady Cox has also been awarded an Honorary Fellowship of the Royal College of Surgeons of England and Honorary Doctorates by universities in the United Kingdom, the United States of America, the Russian Federation, and Armenia.
Baroness Cox served as deputy speaker of the House of Lords from 1985 to 2005 and was Founder Chancellor of Bournemouth University from 1991 to 2001. She was also a Baroness-in-Waiting to Queen Elizabeth II and from 2006-2013 served as Chancellor of Liverpool Hope University. In addition, Baroness Cox was a founder Trustee of MERLIN Medical Emergency Relief International and is currently an Honorary Vice President of the Royal College of Nursing.
British House of Lords Member Baroness Cox will personally accept the award at the 2018 ANCA-WR Gala slated for October 7 at the Beverly Hilton Hotel in Beverly Hills, California. As mentioned last week, the "Architects of Denial" film team will be receiving the Excellence in Media Award at the gala as well. Additional honorees will be announced in the coming weeks.