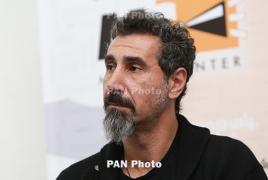 August 8, 2018 - 18:40 AMT
PanARMENIAN.Net - System Of A Down frontman Serj Tankian believes he doesn't deserve the amount of attention he received after the revolution in Armenia but is ready to use his fame for a good cause.
The musician said in a conversation alongside Incubus frontman Brandon Boyd that his biggest project now is Armenia after the revolution, Forbes reports.
Asked what fame is for him, Tankian said it's a weapon you can use for good if you want to.
"The Armenia stuff is the perfect example because I don't deserve that kind of attention there. But they were calling for me to go because I supported concrete changes, reforms in Armenia for many years, openly writing to the ex-president and saying, "This is untenable, this is embarrassing." So the revolution happened, and I ended up flying in early May and going," he said.
"And these people were so happy cause they just got liberated and even though I don't deserve them looking at me as if I'm important for the revolution, as long as they felt that was important and helped them in their inspiration, that they feel good about it, then it's fine. Just like if someone takes a picture with you or me or anybody and walks away happy. And that's where fame can be useful, if you apply it for good. But, overall, I hate it because I'd rather not deal with that and just do my work because we're artists, this is what we do."
Tankian also said that he is producing a documentary about the "velvet revolution" that took place in Armenia in April-May.