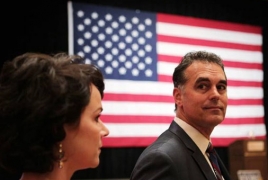 August 17, 2018 - 11:30 AMT
PanARMENIAN.Net - Congressional candidate Danny Tarkanian has said at a reader panel that he is not anti-immigrant, citing his Armenian heritage, Las Vegas Review-Journal reports.
While he supports beefing up border security, Tarkanian said he is not anti-immigrant: His grandmother escaped the Armenian Genocide in 1917.
"She took advantage of the American dream, worked her tail off and created an opportunity for her son to become the greatest basketball coach in NCAA history," he said.
Tarkanian told the panelists he supports President Donald Trump's "America-first policies" including the president's stance on repealing the Affordable Care Act, national security, tax reform, immigration and border security.
Tarkanian was quick to draw a line between Trump's policies and his sharp tongue, saying he doesn't support the president's offensive comments and tweets.
Tarkanian and Democrat Susie Lee have captured their parties' nominations in southern Nevada's 3rd District.