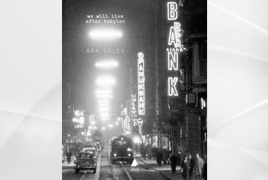 August 17, 2018 - 15:35 AMT
PanARMENIAN.Net - A book that brings together short stories that Turkish-Armenian photographer Ara Güler penned during his early period, and his photographs has recently been published.
"Güler is known internationally as a photographer and is considered the most important representative of creative photography in Turkey, however, he is relatively unknown as a short story writer, and the various aspects of Güler-the-writer appear in breathtaking range in "We Will Live After Babylon", Aras Publishing says in an emailed statement.
"This new edition of three simultaneously published volumes in Turkish, Armenian and English, brings together Güler's visual production with his texts, who appear to also take photographs through the medium of the short story, to form a "photograph-short story album".
"Güler thinks that his early period short stories have an important role in his ability to "capture meaningful moments and combine them in a narrative", and describes these 13 short stories as "a kind of photography". There is no doubt that Güler is a "man of the visual world" and "We Will Live After Babylon" is a solid proof of that."
As reported earlier, the Istanbul municipality has approved a proposal to rename Tosbaga street in the district of Beyoglu in honor of Guler. Nicknamed "the Eye of Istanbul", Guler lived on the street for many years and still retains his studio there.