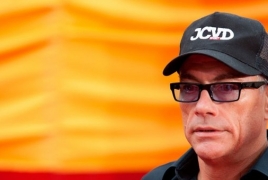 September 14, 2018 - 16:45 AMT
PanARMENIAN.Net - Belgian actor, martial artist and filmmaker Jean-Claude Van Damme will arrive in Armenia to participate in the Comedy Club Festival, set to be held in Yerevan on September 15-16.
"I love Armenia so much, and Charles Aznavour is a good friend of mine and my favorite singer from childhood," the actor was quoted as saying.
"Therefore, I am doubly pleased that I will not only be a guest of one of the most popular comedy shows in Russia, but I will also be able to feel the spirit of this beautiful country."
"Van Damme is a legendary man who looks 55 at the age of 57," Marina Kravets from Comedy Club joked.
"As a child, I often watched martial arts films with my brothers, although I turned away during scenes of fight."