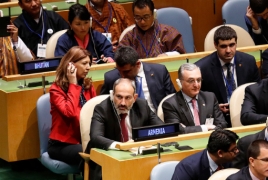 September 25, 2018 - 11:38 AMT
PanARMENIAN.Net - Prime Minister Nikol Pashinyan, who is in New York on a working visit, attended the Peace Summit dedicated to Nelson Mandela at the UN headquarters, where he gave remarks to celebrate the "iconic political leader".
"It is a great honor to address Nelson Mandela Peace Summit that marks the centennial anniversary of this iconic political leader. Mandela's image symbolizes peace and human dignity, embodying struggle and compassion at the same time," Pashinyan said.
"It was only half a year ago, when the people of Armenia rejected fear and injustice and went out to the streets to protest for their fundamental rights, freedom and dignity.
"As the dramatic events were unfolding in the streets of Yerevan I was asked if I had a model of a leader who inspired me in my nation's strive for democracy and social justice and my answer was YES, there is such a leader. And that leader is Nelson Mandela.
"Having been a political prisoner myself, I closely followed the political path and life story of this most famous political prisoner who would change his own country and indeed the aspirations of millions worldwide.
"As Mandela said on one occasion "I learned that courage was not the absence of fear, but the triumph over it. The brave man is not he who does not feel afraid, but he who conquers that fear."
"Mandela's walk, the long walk to freedom was with me during my imprisonment, and to a great extend influenced my conscience and motivated me to embark on my own "long walk to freedom" through prison and persecution, through struggle against injustice across the towns and villages of my country.
"In the true spirit of Mandela's ideas, our movement became known to the world as Armenian non-violent velvet revolution of love and solidarity and now, months after my people's success, I stand here at the high rostrum of this summit as the head of modern Armenian government to celebrate the legacy of this great person whose courage and determination served as an example for others around the globe."