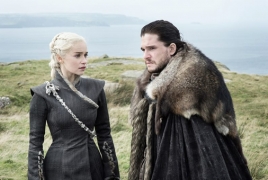 September 26, 2018 - 15:23 AMT
PanARMENIAN.Net - "Game of Thrones" may be a fantasy series, but HBO is doing everything in its power to bring this mystical realm into the real world. The network announced on Monday its plans to convert multiple "Game of Thrones" filming locations into tourist attractions that'll be called "Game of Thrones" Legacy, meaning you can start planning your dream getaway to Westeros as soon as possible, Bustle says.
As of now, the current locations that are set to be part of this attraction extravaganza are all in Belfast and the Northern Ireland region. And while it's not uncommon for fans to visit the famous filming sites without the help of any tours, Legacy's goal is to fully immerse the public into the world of the Seven Kingdoms by offering visitors a behind the scenes look at costumes, props, weapons, set dressing, concept art, and so much more.
"We look forward to opening the gates and sharing the excitement of stepping inside these amazing sets with "Game of Thrones" fans from around the world," Jeff Peters, Vice President of Licensing and Retail at HBO said in a statement, according to Mashable. "The opportunity to celebrate Northern Ireland's pivotal role in the life and legacy of the show and share its culture, beauty, and warmth is also a huge inspiration behind these Legacy projects."
It's possible that, if successful, these attractions could expand to other filming locations as well, but for now the current standing sets that are being considered for the tour are some of your favorite Westeros hot spots such as Winterfell, Castle Black, the King's Landing.