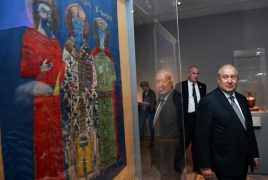 October 3, 2018 - 17:59 AMT
PanARMENIAN.Net - President Armen Sarkissian on Wednesday, October 3 visited the Metropolitan Museum of Art in New York City, which hosts the exhibition "Armenia!".
The exhibition brings together an impressive collection of objects – manuscripts, textiles, khachkars (cross stones) and other carvings in stone and wood, liturgical vessels, ceramics and jewellery. These attest a predominantly – though by no means exclusively – Christian world.
The president and his wife toured the museum to admire the unique masterpieces, including pieces by renowned Armenian masters.
Sarkissian reminded that he attended the opening of the Smithsonian Folklife Festival in Washington, DC months ago, which also focused on the Armenian culture and traditions.
Representing the cultural heritage of Armenia, most of the works displayed in New York come from major Armenian collections: the Mother See of Holy Etchmiadzin; the Matenadaran (Ancient Manuscripts); the National History Museum in the Republic of Armenia; the Catholicosate of the Great House of Cilicia in Lebanon; the Brotherhood of St. James in Jerusalem; and the Mekhitarist Congregation of San Lazzaro degli Armeni in Venice.
Almost all of the works are on view in the United States for the first time; some had not travelled abroad for centuries.