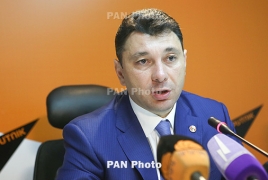 October 9, 2018 - 15:21 AMT
PanARMENIAN.Net - The sale of weapons by MSM Martin to Azerbaijan is worrying and unacceptable, Deputy President of the Armenian National Assembly Eduard Sharmazanov has said at a meeting with the Speaker of the National Council of Slovakia, Andrej Danko.
Meeting Danko in Antalia on Tuesday, October 9, Sharmazanov said Azerbaijan uses the weapons brought from the Slovakian company against the civilian population of Artsakh (Nagorno Karabakh).
The sides stressed the importance of finding a resolution to all the conflicts out there, including the one in Karabakh.
Also, Sharmazanov and Danko discussed cooperation between the parliaments of the two countries.
At the end of the meeting in the Turkish city, Sharmazanov called for an early ratification by the Slovakian parliament of the Comprehensive and Enhanced Partnership Agreement, signed between the European Union and Armenia in November 2017.
Both Houses of the Parliament of the United Kingdom, as well as the European Parliament, Denmark, Bulgaria, Poland, Estonia, Latvia and Lithuania have so far ratified the CEPA.
Negotiations on the new EU-Armenia partnership agreement were launched in 2015 and concluded in 2017. It was then signed by both sides in November 2017.
The final agreement marks a deeper EU-Armenia political dialogue, broadens the scope of economic cooperation and provides new opportunities for closer ties on energy, transport, infrastructure, environment, trade, education and other sectors.