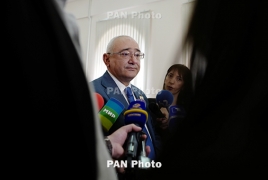 November 2, 2018 - 11:45 AMT
PanARMENIAN.Net - Election campaigns ahead of Armenia's snap parliamentary vote of December 9 will begin on November 26,the Central Electoral Commission has revealed.
According to the CEC, parties and blocs seeking to run in the upcoming elections should submit their final lists of candidates by November 14.
The National Assembly failed to elect a new Prime Minister for a second time on Thursday, November 1.
The parliament will thus be dissolved and snap parliamentary elections will follow on December 9.
Acting Prime Minister Nikol Pashinyan was the only candidate for the post but his nomination was a mere formality.
Pashinyan resigned on October 16 after sweeping to power back in May as a result of a peaceful disobedience campaign. Tens of thousands of Armenian residents took to the streets across the country in spring to protest against the then ruling authorities. Pashinyan, then a lawmaker from Yelk bloc who led the massive movement, became the country's new Prime Minister as a result.