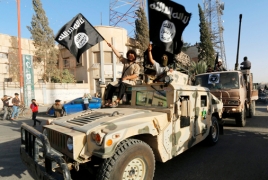 November 2, 2018 - 17:02 AMT
PanARMENIAN.Net - The Islamic State group launched a big attack against the Syrian Arab Army (SAA) in southern Syria on Thursday, November 1, Al-Masdar News reports.
Using the element of surprise, the Islamic State militants stormed the Syrian Arab Army's positions in the rocky areas of the Al-Safa volcanic region on Thursday morning.
The surprise attack would prove successful for the militants of the Islamic State, as they were able to retake some ground they lost to the Syrian Arab Army over the last few weeks.
As a result of the attack, the Islamic State was able to kill and wound several soldiers from the Syrian Arab Army, National Defense Forces (NDF), and Syrian Social Nationalist Party (SSNP).
Since the collapse of talks between the Syrian Arab Army and the Islamic State, the latter has launched a number of attacks against the government forces in the Al-Safa region.
The Syrian Arab Army has been limiting their operations in the Al-Safa region in order to convince IS to return to the negotiations table.
The Syrian Army is trying to get the Islamic State militants in the Al-Safa volcanic region to release the 20+ civilians from Al-Sweida that they are currently holding in an undisclosed location.