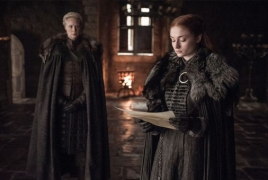 November 15, 2018 - 11:42 AMT
PanARMENIAN.Net - Hold on to your dragons, the final season of "Game of Thrones" is going to be a thrill ride. Emmy-winning Thrones director David Nutter has revealed on Reddit that the final episodes will be long and full of action, Cnet reports.
The HBO hit will have only six episodes in its final season, which HBO just revealed is coming in April 2019. But Nutter confirmed earlier reports that they'll be long.
"Season 8 episodes will all, I think, be longer than 60 minutes," Nutter said. "They'll be dancing around the bigger numbers, I know that for sure."
One Reddit user asked Nutter to compare the final season's drama with the infamous Red Wedding episode, where heads rolled and beloved characters died.
"As far as Season 8 compared to the Red Wedding, I just have to tell you -- hang onto your seat, 'cause it's going to be special," Nutter said.
Asked to describe the last season in three words, he chose, "Spectacular, inspiring, satisfying."
To try to avoid leaks, the final scripts weren't printed on paper, which could be easily shared or photographed, Nutter said.
"Season 8 was a very, very tight ship," he said. "It was limited viewing on many things. Not a lot of paper on the set -- like none. No scripts were printed, we only used iPads and things of that nature."
He promised surprises but said the showrunners also thought about fan desires. (Does this mean Tyrion lives happily ever after?)
"David (Benioff) and Dan (Weiss) did a tremendous job, and they took into consideration what the fans want, as well as what is right as far as storytelling is concerned," Nutter said. "I guarantee there's going to be lots of surprises and shocking moments, but it's really very compelling stuff."