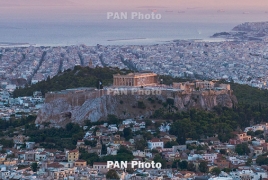 November 15, 2018 - 13:11 AMT
PanARMENIAN.Net - Archaeologists in Greece have located the remains of a lost city believed to have been settled by captives from the Trojan War, Fox News says.
In a statement released Tuesday, November 13 Greece's Culture Ministry said recent excavations in the southern Greek region of the Peloponnese turned up "proof of the existence of the ancient city" of Tenea, until now known mostly from ancient texts.
Excavations took place from September to early October, according to the Ministry. "The work was focused on two main places: the area where an organized cemetery of Hellenistic [ancient Greek] and Roman times extends with adjoining buildings and facilities, and in a second place where, for the first time, residential remains of Ancient Teneas were excavated and excavated," it said, in its statement.
Experts uncovered what appear to be homes from the ancient city. "Inside these areas, clay floors, as well as portions of marble and stone floors, were maintained in good condition, while some of the walls were well-crafted and covered with mortar," the Ministry said.
Finds included household pottery, a bone gaming die and more than 200 coins dating from the 4th century B.C. to late Roman times.
A pottery jar containing the remains of two human fetuses was also found amid the foundations of one building. That was unusual, as the ancient Greeks typically buried their dead in organized cemeteries outside the city walls.