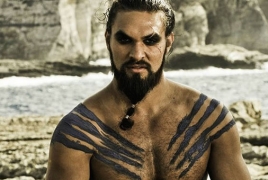 November 21, 2018 - 17:55 AMT
PanARMENIAN.Net - "Game of Thrones" season eight is almost here, and there's a new theory which suggests an old character will return to the show and defeat the Night King, Express reports.
"Game of Thrones" season eight is just around the corner and fans are desperate to know what happens.
Fans have been coming up with their own theories suggesting what could happen in the final season, and there's one in particular which has gained some traction online.
This particular theory involves one of "Game of Thrones'" most popular characters, Khal Drogo (played by Jason Momoa).
The theory suggests the character could return and help bring down the Night King.
With the White Walkers now having their very own Ice Dragon and a massive army of the dead.
How can this army be stopped from eradicating Westeros from the map?
One Reddit user has suggested Khal Drogo is the key.
Khal was the leader of the Dothraki, yet he died in the first season of the show after one of his own men wounded him.
"All characters that have been burned to death/after death by fire will be reincarnated by R'hllor (god of fire/light/red god)," wrote Reddit user u/cadiacman.
"You fight an army with an army, an army of burned dead people that you resurrect."
The theory goes on to suggest the Red Priests will resurrect heroes from the past to help in the battle against the White Walkers.
One of these heroes would be Khal, along with a number of the Starks.
As theories go, it's a pretty wild one, yet it would undoubtedly lead to one heck of a final battle sequence.
Tyrion Lannister star, Peter Dinklage, has teased that season eight will feature the most brutal battle sequence ever seen on "Game of Thrones".
"It makes the Battle of the Bastards look like a theme park," he told Entertainment Weekly.
Fans will have to wait until season eight airs in 2019 to find out what really happens.
Season eight is confirmed to be airing in April 2019, and HBO won't push it any earlier.