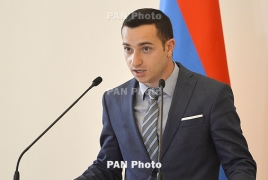 November 23, 2018 - 13:17 AMT
PanARMENIAN.Net - Acting Armenian Diaspora Minister Mkhitar Hayrapetyan has not ruled out that the Ministry may become a part of another ministry.
"I get the feeling that this ministry has not set itself the most ambitious goals. The state has not set unsolvable problems before us either," Mkhitaryan told reporters on Friday, November 23.
"My idea is that if the ministry is going to have some symbolic functions, such as playing at working or meeting certain expectations, it does not have to be in the format of a ministry.
"But I believe that Armenia can afford having a powerful Diaspora Ministry."
However, he expressed confidence that no matter what the new government decides, possible changes will be aimed at ensuring a more productive working process.
Armenia is holding snap parliamentary election on December 9, and a new cabinet of Ministers will be formed within a month or two. Acting PM Nikol Pashinyan has revealed that structural changes will be coming to the Armenian government.
Also Friday, Hayrapetyan revealed that more than 450 families have repatriated to Armenia in the seven months from May.