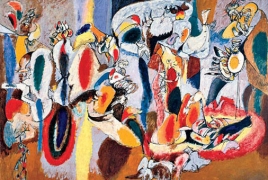 November 26, 2018 - 14:59 AMT
PanARMENIAN.Net - With the opening of the 2019 Venice Biennale less than six months away, many participating nations have picked artists for their pavilions, and details about the central show, curated by Ralph Rugoff, are trickling out. Now there is news of another contribution to the glorious bounty of art that will overtake the Most Serene Republic when the Biennale opens in May: a retrospective for the painter Arshile Gorky, the Armenian-American's first in Italy, to be staged at the Ca' Pesaro museum of modern art, a sumptuous baroque palace along the Grand Canal, ArtNews reports.
Titled "Arshile Gorky: 1904–1948" (the years that bracketed Gorky's painfully short life, which he ended by suicide), the exhibition will chart the full span of his career, from early experiments in an array of modes informed by historical painters to his astonishing late work, which was a sturdy, ingenious bridge between Surrealism and Abstract-Expressionism.
The show will sport some 80 works, from Tate in London, the National Gallery of Art in Washington, D.C., the Centre Pompidou in Paris, and elsewhere, and is being presented in cooperation with the Arshile Gorky Foundation.
The show is running from May 8 through September 22, 2019.
Gorky was born Vosdanig Manoog Adoian in 1904, in Khorkom, outside the city of Van (now in Turkey). By 1915, Turkey's new military leaders launched a campaign to deport and murder Armenians. Gorky and his family escaped the worst brutality of the Armenian Genocide. They endured starvation and homelessness instead of mass extermination. The young boy left his family behind for the US, then fled relatives in Boston for New York.