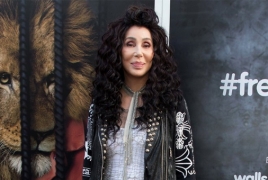 December 5, 2018 - 10:23 AMT
PanARMENIAN.Net - Cher watched on Monday, December 3 night as three actresses — Stephanie J. Block, Teal Wicks and Micaela Diamond — stepped into her shoes at different stages of her life. This wasn't the first time the multi-hyphenate singer-actor extraordinaire was viewing "The Cher Show", but that was the case for most of the audience at opening night of the Broadway production at the Neil Simon Theatre in New York, The Hollywood Reporter says.
Guests like Tina Fey, Keegan-Michael Key, Bernadette Peters, Kim Kardashian, Kanye West and more turned out for the musical's premiere, which ended with a stage appearance and short performance of "If I Could Turn Back Time" from the real Cher, accompanied by Block.
The Cher Show itself includes 35 hit songs by Cher - an Armenian-American pop icon - and a handful of her contemporaries, along with costumes designed by her longtime fashion collaborator Bob Mackie and portrayals of people like Sonny Bono, Lucille Ball and Robert Altman.
It's essentially exactly what it sounds like: a musical based on the life, loves and career of Cher. And watching that all play out in front of her is also what it seems like it'd be for anyone: both "fun" and "difficult," Cher said. "It's just so close to the bone."
If there's one thing she's particularly satisfied with, it's the actors. "I couldn't have gone anywhere and found better people. I am not kidding," she said. "When I see them sometimes, I'm like in tears."
Block, who plays the senior Cher, said that despite there being numerous iterations of the star, they "all kind of blend into one."
"I'm lucky enough that I get to have scenes with Sonny, I get to go back to The Sonny and Cher Show, I get to be in The Cher Show, and I get to live until she's in her 50s," Block said. "But we share each other's conversations. We share advice on stage. We get to interact and talk to each other as sisters, as mentors, as teachers. And that's what's really special about it all. I love that this story is not linear. I think that's what makes our play work, is that [all three actresses playing Cher] very well know we are one woman. It may sound airy-fairy, but when we're on stage together, we kind of are this one human entity."
Contributing to the person that Cher is, however, proved to be "nerve wracking" for two-time Tony Award nominee Block at first. But over time, her focus became "protecting" Cher.
"Once you get to know the woman beyond watching the YouTube videos or just getting a hug or a one sentence, and you actually get to sit down and talk to her, you feel a great responsibility," Block told THR. "She can take care of her damn self, but as long as I'm standing on that Neil Simon stage, I promised her I would protect her."
According to The Cher Show's director Jason Moore, the idea for three different Cher actresses came from book writer Rick Elice, who had a previous bio-musical hit with Jersey Boys.
"It's a lot to ask any one actress to be all the things that Cher is," Moore told THR. "By having three of them, they're able to share those duties and we're also able to have a theatrical, interesting psychological layer that gives it some depth. I think that surprises and delights some people."
Cher provided direction for the musical "from the beginning," Moore said, adding that it was initially difficult to portray the life of someone who's still living. "We want to do her justice, and I think we have, but it's also been really fun because she gives us shortcuts. She's like, 'This is more me. This is what actually happened.' So we're telling the truth."
Part of what Cher wanted to include, according to Block, was the "human aspect" of her story.
"I think something a lot of people don't know about Cher, but she definitely wanted it known, is that she is a shy individual," Block said. "She is an introvert living an extrovert's life. She wears these costumes, has all these bells and whistles around her, but at her core, she's all about salt of the earth, being an anchor and being the best human she can be."