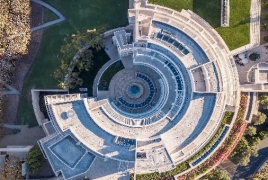 January 5, 2019 - 11:18 AMT
PanARMENIAN.Net - Thousands of images from the Pierre de Gigord Collection are now accessible online, thanks to an undertaking by the Getty Research Institute.
In the 1980s the French collector Pierre de Gigord traveled to Turkey and collected thousands of Ottoman-era photographs in a variety of media and formats. The resulting Pierre de Gigord Collection is now housed in the Getty Research Institute, which recently digitized over 6,000 of the nineteenth- and early twentieth-century photographs, making them available to study and download for free online.
The collection features, among other things, pictures taken by Armenian photographers. Photographs of cities, markets, and sites of destruction are recorded along with encounters with government functionaries such as the minister of war, Enver Pasha, the highest-ranking perpetrator of the Armenian Genocide.
From albumen prints to lantern slides, glass negatives and albums, the collection documents landmark architecture, urban and natural landscapes, archaeological sites of millennia-old civilizations, and the bustling life of the diverse people who lived over 100 years ago in the last decades of the waning Ottoman Empire.
The digitization project focused on photographs from the nineteenth century until World War I (Series I–VIII), resulting in 3,750 individual records of digital files. Research Institute photographers such as Lyndsey Godwin-Kresge took thousands of materials that are difficult to find, as they are preserved in the vaults with limited circulation, and transformed them into digital files.
Artist Hande Sever recently highlighted the central role Armenian photographers played in shaping Turkey's national cultural history and collective memory. Sever notes how the archive offers visual records of an obliterated past, a world that disappeared due to ethnic conflict and cleansing.