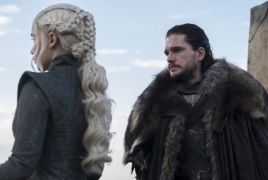 January 7, 2019 - 13:28 AMT
PanARMENIAN.Net - The first official footage of "Game of Thrones"' eighth season has been unveiled. The clip teases Jon Snow and Daenerys Targaryen's arrival in Winterfell, and Dany's first face-to-face encounter with Sansa Stark, Harper's Bazzar reports.
The face-off looks tense, to say the least. "Winterfell is yours, your grace," Sansa tells Dany, and she doesn't look too happy about it. Brienne of Tarth, guarding Lady Stark, and Ser Jorah Mormont, accompanying his Khaleesi, also make appearances.
Although clip shows a long-awaited meeting, fans are still waiting for the reunion of the ages between Jon Snow and Arya Stark.
Entertainment Weekly previously reported that this is how Game of Thrones' Season 8 kicks off. The outlet published in November:
"Season 8 opens at Winterfell with an episode that contains plenty of callbacks to the show's pilot. Instead of King Robert's procession arriving, it's Daenerys and her army. What follows is a thrilling and tense intermingling of characters—some of whom have never previously met, many who have messy histories—as they all prepare to face the inevitable invasion of the Army of the Dead."