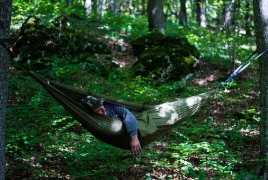 January 25, 2019 - 12:42 AMT
PanARMENIAN.Net - New research published in the journal Current Biology finds that slow, repetitive movement improves sleep quality — and implicitly memory consolidation — by modulating brain wave activity, Medical News Today.
Obesity, diabetes, high blood pressure, and cardiovascular disease are just some of the conditions that sleep-deprived people are at risk of developing.
The director of the CDC's (Centers for Disease Control and Prevention) Division of Population Health recommends that people who don't get enough sleep make a range of lifestyle changes to improve their sleep quality. Changes include "going to bed at the same time each night; rising at the same time each morning; and turning off or removing televisions, computers, mobile devices from the bedroom."
But besides such sleep hygiene practices, new research suggests there is something else a person can do to improve sleep, even as an adult: rocking gently from side to side.
Two new studies, conducted by researchers at the University of Geneva (UNIGE), University of Lausanne (UNIL), and the University Hospitals of Geneva (HUG) — all in Switzerland — examine the effects of slow and repetitive movement on sleep quality in young adults and mice.