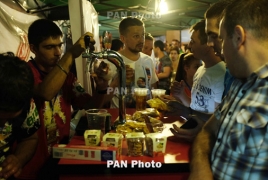 February 6, 2019 - 14:03 AMT
PanARMENIAN.Net - Researchers have found that alcohol, and specifically red wine, is a potent migraine trigger in patients with migraine. Many patients with migraine avoid or drastically reduce their alcohol consumption based on its triggering effects. The findings from this observational study were published in the European Journal of Neurology.
Dutch patients with migraine with and without aura in the Leiden University Migraine Neuro-Analysis (LUMINA) study population were enrolled in the study (n=2424). An electronic alcohol trigger questionnaire was administered and completed by all participants to explore the effect of alcohol on migraine headache and the timing between alcohol consumption and migraine attack, as well as the effect of alcohol's triggering component on alcohol consumption behavior. For vodka and wine, the researchers also examined how frequent attacks were triggered based on a scale from 0 to 5: 0, never, 0%; 1, rarely, 1% to 24%; 2, sometimes, 25% to 49%; 3, often, 50% to 74%; 4, mostly, 75% to 99%; and 5, always, 100%.
Alcohol was a reported migraine trigger in 35.6% of participants, and approximately 25% of patients reported abstaining from alcohol because of its trigger effects. Red wine and vodka were the most frequently and least frequently reported migraine triggers (77.8% vs 8.5%, respectively). Only 8.8% of participants found red wine to be consistently associated with the onset of a migraine attack. In addition, the time to migraine onset was