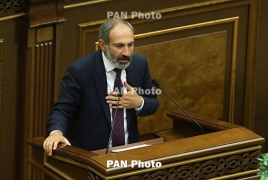 February 19, 2019 - 10:38 AMT
PanARMENIAN.Net - Prime Minister Nikol Pashinyan on Tuesday, February 18 met Member of the European Parliament Frank Engel in Yerevan and thanked him for his "pro-Armenian activity", his office reveals.
Pashinyan congratulated Engel on being elected as President of Luxembourg's Christian-Social Party and wished him fruitful work.
He said he highly appreciates the MEP's pro-Armenian activity and thanked him for periodically raising issues of concern to Armenia and the Armenian people in the European Parliament, as well as for the impartial representation of Artsakh (Nagorno Karabakh) people's fair struggle on international platforms.
Engel assured of his readiness for closer cooperation with his Armenian partners. He briefed Pashinyan on his Party's upcoming programs, weighing in on the current situation in Luxembourg's political life.
The interlocutors discussed ways of developing relations between Armenia and Luxembourg, as well as the ongoing EU-Armenia cooperation.
They also talked about the strengthening of democracy in Armenia, the fight against corruption, economic development and the ongoing reforms.
Besides, the two exchanged views on the settlement of the Karabakh conflict.