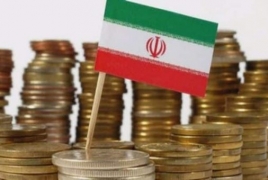 August 1, 2019 - 09:03 AMT
PanARMENIAN.Net - The Iranian government has approved a plan to ax four zeroes from the rial in a bid to tackle high inflation in the country. The measure was announced by an Iranian government spokesperson, Ali Rabiei, following a Cabinet meeting on Wednesday.
Also, the government decided to rename the currency, which will now be called the toman, a former super unit of official currency that was in circulation until 1925. Iranians have for decades continued to use the term toman for its simple conversion rate: 1 toman is equal to 10 rial.
Iran's central bank presented the proposal to the government in early January.
Iran has been facing a severe currency crisis as a result of economic sanctions imposed by Washington, after President Donald Trump withdrew the US from the Iran nuclear deal.
The Iranian rial has plunged from 32,000 to $1 at the time of the 2015 deal to around 120,000 to $1 these days.
This has pushed inflation up, affecting the prices of everything in the country, including food and medicines. Many residents currently pay more than 1 million rial ($30, €27) for a simple trip to the grocery store.