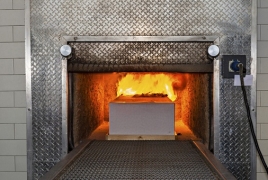 November 25, 2019 - 14:28 AMT
PanARMENIAN.Net - Two crematoria will open in Armenia in 2020, Arman Iskandaryan, the director of the non-commercial organization Special Services for the Population, told PanARMENIAN.Net
"We have studied the legislation in the area and do not see any problems with the law. There are investors who are interested in the issue," Iskandaryan said, adding that their studies have shown there is a demand for crematories in Armenia.
"People should be given a choice, no matter what religion says or some citizens think. On several occasions, people have even taken the dead to Moscow for cremation and returned with the ashes since there is no such option in Armenia."
According to Iskandaryan, cremation costs less than a traditional funeral.
He also cited the huge territories that cemeteries cover in the country as a serious problem. In Yerevan alone, he said, 1.8 ha per year is allocated for cemeteries, while officially the total area of 21 graveyards is 530 ha.
The allocation of land for graves is officially free in Yerevan, with the relatives of the deceased paying only AMD 26,900 (approx. $56) for digging the grave. However, they are planning to start selling burial plots to control the growth of cemeteries.
The total area of 21 cemeteries of Yerevan is officially 530 ha. Meanwhile, there are 90 parks and gardens with a total area of 213 hectares as of 2019. According to the Yerevan Municipality, cemeteries in the capital take up more space than green areas.