PanARMENIAN.Net - Which are the ways to train champions? They are apparently numerous and different. PanARMENIAN.Net talked to the coach and sportsmen, while PAN Photo captured the moments of training, took photos of the worn out equipment and old gym.
Hakob Serobyan, chief coach of the Armenian gymnastics national team
Of course, if we had modern equipment, our results would be much better. In 2015, we got relatively new equipment, although not in line with that used during international competitions. The rest is old and worn out. However, the most important thing we need is a good gym.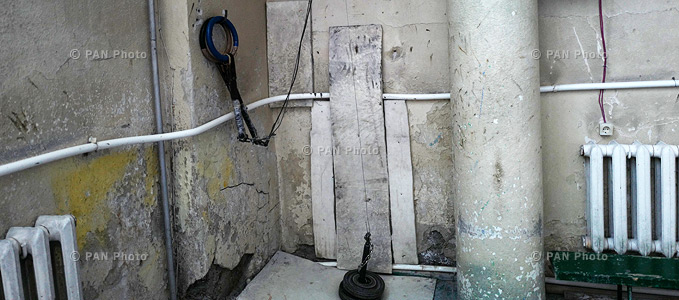 Our gym saw Eduard Azaryan (the son of Albert Azaryan) training here some 35-40 years ago. The wooden floor sags, causing instability of the equipment. We could avoid this problem in case with concrete floor. It specifically refers to the rings, vault and horizontal bar. Unfortunately, our athletes are deprived of the possibility to jump higher because of the old equipment. They can't perform sophisticated elements, as they don't get an extra 20cm. Russian gymnast Svetlana Khorkina (2-time Olympic champion, 9-time world champion and 13-time European champion) appealed the results of a competition when the bar was fixed lower than usual. However, we are forced to train under such conditions a priori and athletes risk getting injured when performing the difficult parts.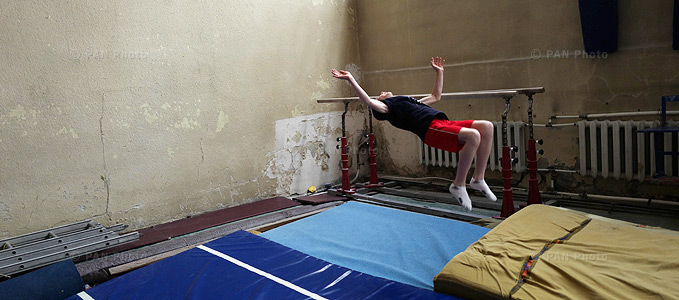 There is also a psychological issue. When participating in international competitions, we see the training conditions of other athletes, who arrive with team doctors. We don't even have a doctor. Nevertheless, our guys know that we have what we have and we make achievements. I understand that our country doesn't possess enough resources. If not for the Olympic Committee, we wouldn't even be able to organize training camps or leave for competitions abroad.
I also want to emphasize that our success is the result of team work, contributed by Sos Sargsyan (2nd coach and Harutyun Merdinyan's personal coach of), Hayk Nazaryan (junior team coach and Vahagn Davtyan's personal coach), Artem Avetyan (Arthur Davtyan's personal coach), Ashot Gasparyan (Arsen Gasparyan's personal coach) and others.
Albert Azaryan, Olympic Champion (1956, 1960) on the still rings, world champion (1954, 1958), Asian Games champion (1963), European champion and the president of the Armenian Gymnastics Federation
During the soviet era, special attention was paid to development of gymnastics. We received new equipment every year and gifted the old to schools. Nowadays, athletes have the same equipment for 12 years and despite this fact, one of them won the European champion's title this year. It means that our children have great potential, not only preserving but also promoting our gymnastics school.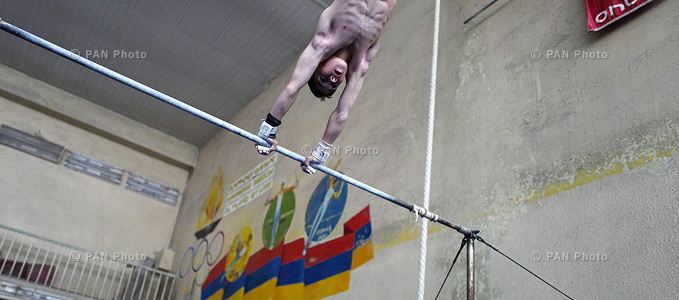 Harutyun Merdinyan, European champion on pommel horse
If we had new gym and equipment we wouldn't have to think of secondary tasks. I trained on a pommel horse which was new but malformed. Moreover, it doesn't belong to the class of equipment used during international competitions. I also have to confess that the pommel horse produced in 2005 is completely unfit for training.
During competitions, you have to quickly "retrain" for another width, softness and deepness of the equipment and this unfortunately affects the results.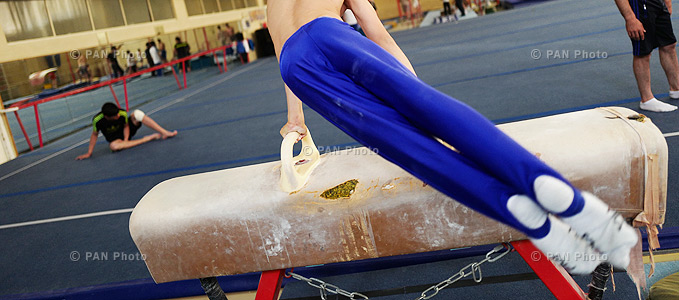 Rio
We have two training camps before the Olympics: in Georgia and in Brazil. I think the equipment there will be same as during the Games. This will give us about 15 days for getting accustomed both physically and psychologically.
Arthur Davtyan, vice champion on the vault
The conditions in the gym are not safe for training. There should be a special place filled with matrasses under the vault to soften the blow in case of falling. When we were training recently outside Armenia, I tried a new hard part of the exercise and fell on the head. I could avoid injury thanks to the matrasses. There is one more important aspect: if the training conditions are not safe and you try not to risk your health, you can't concentrate on performing and feel strained.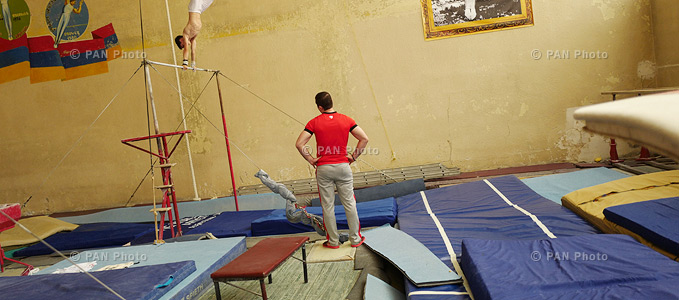 Rio
We will have time to get used to the new equipment. The most important task is to reach the finals.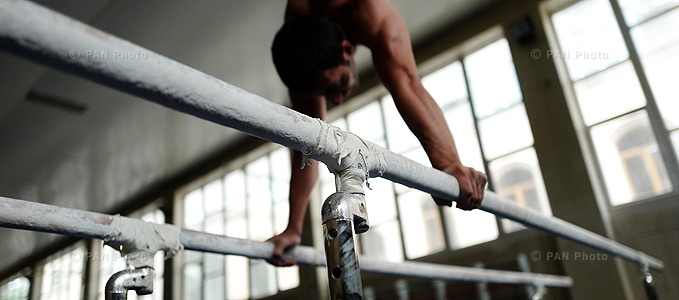 Vahagn Davtyan, vice champion on the still rings
The rings in our gym are relatively new but have already worn out. That's why it's hard to perform when they are replaced with completely new rings, which are thicker. This difference hampers from jumping and catching properly, as you can't assess your movements.