PanARMENIAN.Net - Nothing has changed so far, even when Tsarukyan announced in 2015 that he will quit politics and henceforth the party he founded. Naira Zohrabyan, who replaced him as a chairperson, confessed that they had always been met in rural settlements as "Tsarukyan's parliamentarians".
PAN will dwell on Prosperous Armenia's activity as a coalition and opposition party.
Establishment and first elections
Prosperous Armenia (PA) party was founded on April 30, 2004 by entrepreneur, sports advocate and sponsor Gagik Tsarukyan. At first, many linked the new party to Armenia's second President Robert Kocharyan, although the party members used every opportunity to refute the opinion. The parliamentary elections in 2007 were a premiere for PA: it gained 17% of the votes, forming a coalition with the Republican Party of Armenia (RPA), which got 30% of the votes and Dashnaktsutyun party, which won 15%.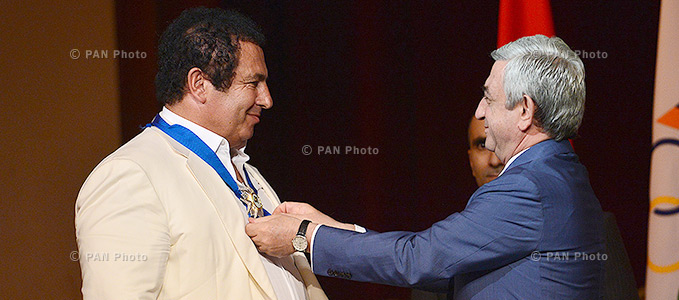 During the 2008 presidential elections, Prosperous Armenia party backed Serzh Sargsyan. The next year, the party's rating was steadily growing. In the 2009 Yerevan municipal council elections, PA garnered 89,131 votes (22%).
It's noteworthy that after the municipal elections, the leader of the Armenian National Congress (ANC) Levon Ter-Petrosyan called on Dashnaktsutyun (which had quitted the ruling coalition because of the Armenian-Turkish reconciliation protocols by that time) and Prosperous Armenia "to unite and jointly struggle against the regime of Serzh Sargsyan." However, PA refused the proposal to form a united opposition bloc. "Prosperous Armenia is a part of the ruling coalition and is not joining any opposition movement," party secretary Aram Safaryan said.
In 2011, the coalition parties – Republican Party of Armenia, Prosperous Armenia and Orinats Yerkir party – signed the Political Coalition Statement. The signatories announced that they will not act as rivals during the upcoming parliamentary race and will propose incumbent leader Sargsyan as a candidate for the 2013 presidential polls, thus "contributing to the sustainable development of our country for the next five years."
Partially opposition
During the 2012 parliamentary elections, Prosperous Armenia got 454,671 votes, falling behind the Republicans. However, Tsarukyan declared that his party doesn't find it appropriate to form any coalition with the RPA. Prosperous Armenia didn't join opposition ranks but proclaimed themselves a moderate opposition force "to work in a constructive manner."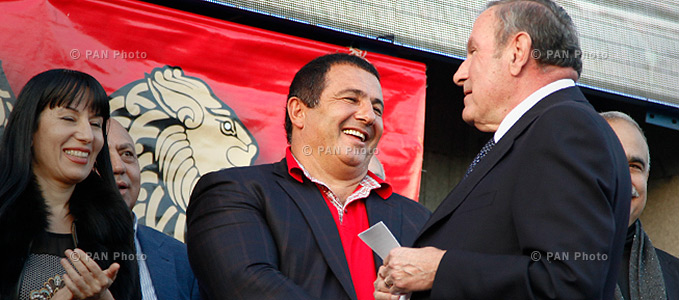 The decision was welcomed by ANC leader Ter-Petrosyan, who noted, however, that "should Prosperous Armenia support President Sargsyan one day, it will be the end of political era."
Partially oppositional Tsarukyan, meanwhile, stayed true to the Coalition Statement and didn't take part in the presidential election, won by incumbent Sargsyan.
Opposition
Prosperous Armenia participated the 2013 Yerevan municipal council elections, winning about 17% of votes. In 2014, then-Prime Minister Tigran Sargsyan resigned to be replaced to Hovik Abrahamyan, while Tsarukyan and his party joined Dashnaktsutyun, ANC and Heritage party as an anti-governmental force. The so-called union of four parties became a three-party bloc several months later, when Dashnaks started constitutional talks with the ruling RPA and consequently agreed to form a coalition government, receiving 3 ministerial posts.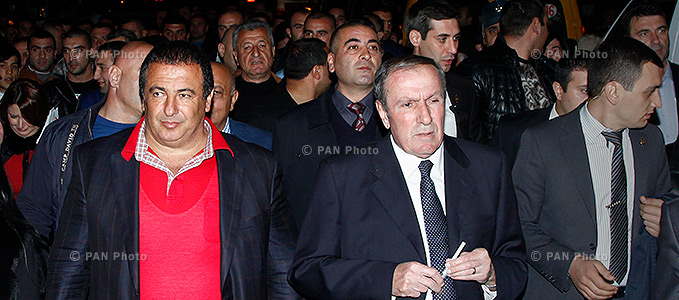 In autumn 2014, Tsarukyan delivered fervent speeches at opposition rallies along with Raffi Hovannisian and Ter-Petrosyan, thus posing as an opposition figure who demands change of power. "Some people must remember that no one is appointed for life. If the development of the country and its security demand change of power, it should take place."
What happened next? Two days later PA member Artak Khachatryan, an active participant of opposition rallies, was kidnapped and beaten. In a statement, the party described the incident as "an impudent and cynical challenge to political forces and society. The country's leadership bears full responsibility for this act of violence." In a while, during his address to the RPA council meeting, President Sargsyan said "it's high time to put the haughty, ignorant and strayed on heels. It's time for certainty and resolution of political issues and will start this process today.
As a result, after a month of his for the regime change, Tsarukyan announced that he quits politics and his Prosperous Armenia, transferring the reins of power to Naira Zohrabyan.
Comeback
Almost two years have passed without any elections of utmost importance. Meanwhile, Tsarukyan and Sargsyan started joint visits to different organizations, captured in photos. Tsarukyan's comeback was widely rumored and said to be desired. Thus, with the motto "by people's side and for people's sake", Tsarukyan decided to return, since the 2017 parliamentary elections "will be a landmark event for Armenia."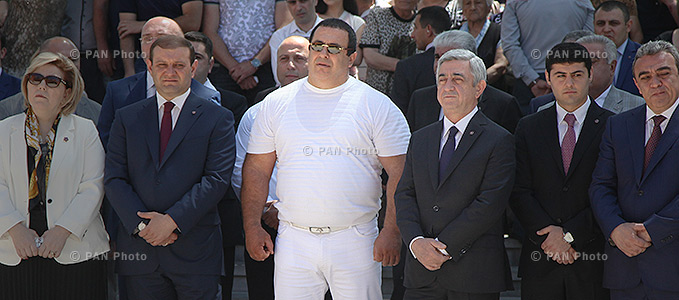 "Taking into account the challenges our country faces, as well as the calls for my return, I reopen the page I once closed and announce participation in the 2017 parliamentary elections. Our alliance will welcome all political forces and figures, who care for the future of our country," he said.