PanARMENIAN.Net - The youngest among recognized states on verge of genocide
South Sudan gained independence from Sudan on July 9, 2011, based on results of a referendum. Peace was not lasting and a civil war broke out soon after, in 2013. The country's main rebel group, who are fighting against government soldiers, are also known as the Sudan People's Liberation Movement, (SPLM). The conflict was triggered when President Salva Kiir, a Dinka by ethnicity, accused his then Vice President Riek Machar, a Nuer, of plotting a coup against his government.
A peace deal between the two sides was finally reached in early 2016 and Machar was reinstated as vice-president. That did not last either. On the eve of independence celebrations in July, renewed fighting between troops loyal to the two clashed in the capital Juba setting off another wave of violence.
The war unleashed an epidemic of rape, uprooted nearly 2 million people and created more than 1.5 million refugees, while a cholera outbreak spread unchecked northwards down the Nile.
In February 2017, the UN officially declared a famine in South Sudan. Unlike most other famines, the starvation here, according to the UN is not a result of drought or natural disaster. This one is a man-made catastrophe, caused by war and economic collapse. "A formal famine declaration means people have already started dying of hunger," the UN agencies said in a joint statement. "Urgent action is needed to prevent more people from dying."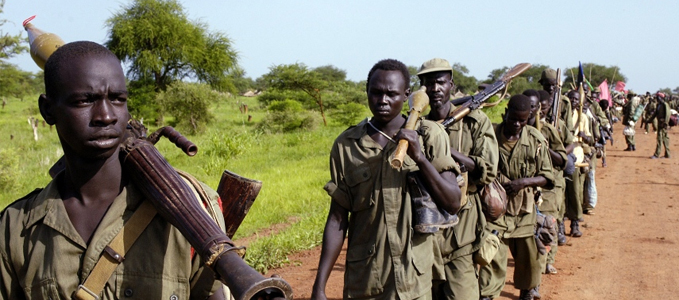 UN High Commissioner for Human Rights Zeid Ra'ad Al Hussein said that special attention had to be paid to the levels of sexual violence in the country. He noted that all armed actors in the country appeared to be responsible for gang rape, and that other human rights violations like abduction, arbitrary arrests and forced displacement of civilians were also being carried out.
In March, the UN said that the ethnic cleansing amid the bloody civil war is nearing genocide.
Conflict between Nuer and Dinka
The Nuer are a people located primarily in South Sudan along the banks of the Nile River, as well as parts of western Ethiopia. Their history is connected to that of the Dinka, their neighbors, with whom the Nuer have inter-married when they took over parts of the Dinka lands. They are primarily a pastoral people; cattle herding is a pivotal part of Nuer culture, and most aspects of daily life involve cattle in some form. The vast majority practice their traditional animistic religion; attempts by missionaries to convert them to Christianity have met with limited success.
Dinka, also called Jieng, people who live in the savanna country surrounding the central swamps of the Nile basin primarily in South Sudan. They speak a Nilotic language classified within the Eastern Sudanic branch of the Nilo-Saharan languages . Numbering some 4,500,000 in the early 21st century, the Dinka form many independent groups of 1,000 to 30,000 persons.
The Dinka and Nuer have competed over grazing land and water for their cattle in the past. These clashes have usually taken place in a local context without causing massive amounts of fatalities.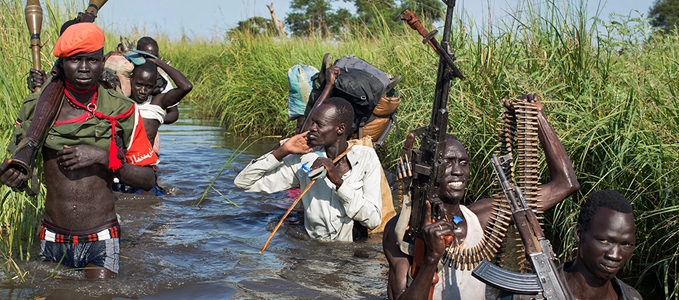 Civil war
The country has been in the grip of a three-year civil war that has already seen the deaths of tens of thousands of people and the displacement of 3 million more. The conflict erupted in December 2013 after a split between President Salva Kiir (Dinka) and his former deputy Riek Machar (Nuer) and has often been fought on ethnic lines. Many in the international community see in the South Sudan conflict a reflection of what occurred in Rwanda in 1994, when Hutu extremists slaughtered around 800,000 Tutsis.
One of the worst sides of the conflict is that it involves 12,000 child soldiers.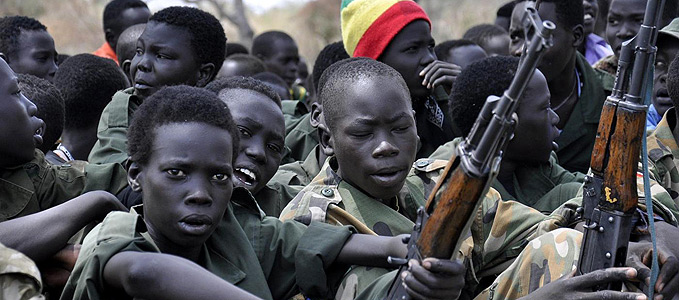 © Getty Images
Death toll
There has been no official death toll from the ongoing civil war but in March 2016 the UN said that tens of thousands of people have been killed, which is much higher than estimates by aid groups that operate in the country. A UN official told news agencies that 50,000 have died in the conflict, which is a fivefold increase of the toll previously reported by humanitarian agencies. The conflict forced more than 2.5 million people from their homes and left almost half the population of 11 million people struggling to find food. Oil production, by far the biggest source of government revenue, has plummeted.
Position of world powers
UN Security Council veto power Russia said in 2016 it was willing to consider imposing an arms embargo on South Sudan and that sending more troops could help stabilize the world's newest nation, after UN Secretary-General Ban Ki-moon called for an arms embargo on the oil-producing nation, a move backed by the United States, France, Britain, Angola and other council members.
However, in 2017, Russia and China remained opposed to U.S. push to impose an arms embargo and additional sanctions on the war-torn country. Russia's deputy UN ambassador Petr Iliichev reiterated Moscow's opposition to ramping up sanctions, saying peace "will not be brought about by a Security Council arms embargo but rather by targeted measures to disarm civilians as well as to demobilize and reintegrate combatants."
China's deputy UN ambassador Wu Haitao said "it is important for the Security Council to send out more positive and enthusiastic messages."