PanARMENIAN.Net - The project titled "Let there be light" (lat. Fiat Lux) is sponsored by RECOM, one of the fastest growing companies in the European solar industry. In a conversation with PanARMENIAN.Net , Optimum Energy representative Armen Gharibyan said the initiative includes energy audit, events on energy efficiency, installation of solar water heaters and photovoltaic array. The amount of investments exceeds $2 million, according to him.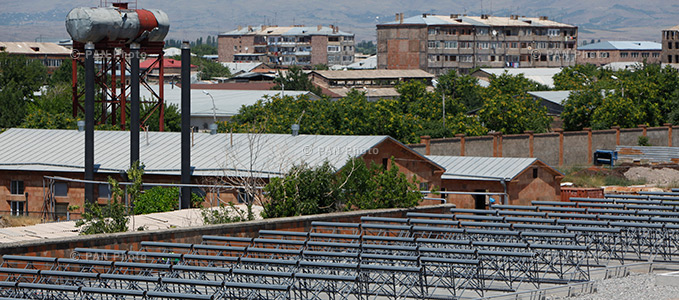 Installation process
Energy efficiency and renewable energy consultant, energy auditor Hovhannes Tevosyan commented to PanARMENIAN.Net on the current and future projects in Holy Etchmiadzin.
Solar water heaters
The religious and administrative buildings in Holy Etchmiadzin will henceforth have hot water heated by the sun. "The water will be heated by solar energy, which will allow saving 65,000 cubic meters of gas annually," Tevosyan said.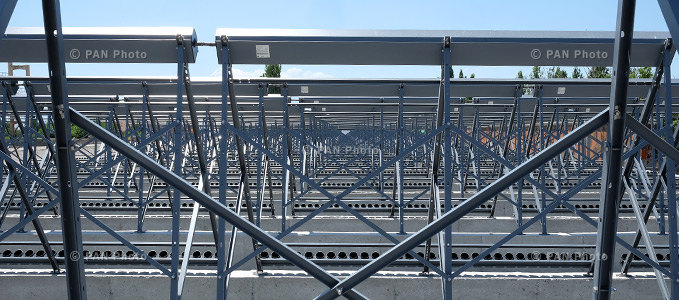 The solar water heating system being installed across the area of 1600 km2 will be the largest in Armenia, with a capacity of about 350kW, which is enough to provide the buildings with hot water through the thermal vacuum tubes during the summer months. The system includes 142 batteries, each consisting of 30 tubes. "The solar radiation absorbed by the thermal vacuum tube is transferred to the liquid, which quickly heats up," Tevosyan said, adding that the system will continue working in winter as well. "The efficiency will certainly be much lower but it's better that stopping the whole system. In case of necessity, boilers will be enabled to provide the proper temperature of the water."
The project will be completed in August.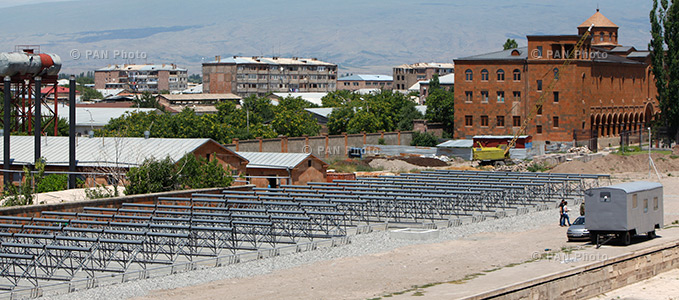 Solar photovoltaic array
Solar photovoltaic array, a system made up of a group of solar panels connected together, with a total capacity of 1MW will be installed in the environs of St. Gayane church. The amount of solar power produced by a single photovoltaic panel or module is not enough for general use. Most manufactures produce standard PV panels with an output voltage of 12V or 24V. By connecting many single PV panels in series (for a higher voltage requirement) and in parallel (for a higher current requirement) the PV array will produce the desired power output. Tevosyan said the solar array in Etchmiadzin will combine 2880 modules that will generate 1,600,000kW of energy annually, which amounts to $140,000, according to the current rates.
The project will be completed in two or three months.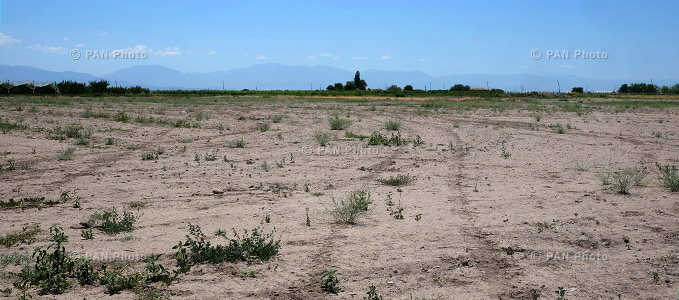 Territory meant the for photovoltaic array and Solar Park
Solar Park
According to Optimum Energy representative Armen Gharibyan, the Solar Park will be built next to the photovoltaic array. It will become a place for people to walk around and also visit a training center, where the latest achievement in solar energy will be presented.
Solar heating system
To provide the buildings with solar heating system demands huge investments. Moreover, it would not be expedient in this case, Hovhannes Tevosyan explained. "If you launch solar heating in winter, you will have a lot of energy in summer as well. How will you consume it? You can't turn off the sun. That's why don't plan solar heating system installation here."
Energy efficiency programs
Mother See of Holy Etchmiadzin has conducted energy audit to determine the measures for each construction. "For example, examination revealed heat leak through the windows in new Matenadaran. To fix it, special tape will be stuck to the glass," Tevosyan said, adding that energy efficiency programs are being implemented for 22 facilities of Holy Etchmiadzin.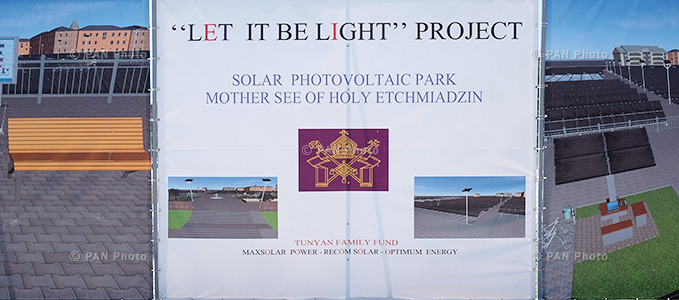 Illumination
Improvement of the illumination system is among the energy efficiency programs. About 5000 ordinary bulbs, which consume much electricity, will be replaced by LEDs. Besides, online energy monitoring system will be launched to examine and analyze consumption of energy in each building.