PanARMENIAN.Net - Davis-Monthan Air Force Base is located in Tucson, Arizona. The area has a large population of military and retired personnel, which has evolved into the largest aircraft boneyard in the world. Davis-Monthan was activated in 1924. Charles Lindbergh officially conducted the base opening ceremonies. The base was named for two local early aviators, who died in separate flight accidents: 1st Lt Samuel H. Davis, and 2nd Lt Oscar Monthan.
With the area's low humidity in the 10%-20% range, meager rainfall, hard alkaline soil, and high altitude of 2,550 feet allowing the aircraft to be naturally preserved, Davis-Monthan is the logical choice for a major storage facility. The geology of the desert allows aircraft to be moved around without having to pave the storage areas.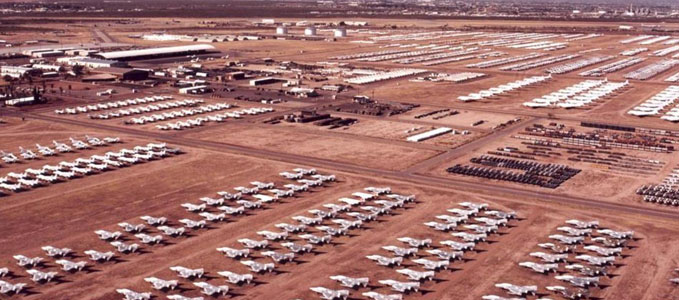 By May of 1946, more than 600 B-29 Superfortresses and 200 C-47 Skytrains had been moved to Davis-Monthan. Some were preserved and returned to action in the Korean War, others were scrapped. In 1956, the first Convair B-36 Peacemaker aircraft arrived at Davis-Monthan AFB for scrapping. All of the fleet of 384 Peacemakers would ultimately be dismantled except for four remaining B-36 survivors saved for air museums.
Davis-Monthan is today the location of the 309th Aerospace Maintenance and Regeneration Group (AMARG), the sole aircraft boneyard and parts reclamation facility for all excess military and government aircraft. Aircraft from the Air Force, Navy, Marine Corps, Coast Guard, NASA and other government agencies are processed at AMARG, which employs 550 people, almost all civilians.
Another role of AMARG is to support the program that converts old fighter jets, such as the F-4 Phantom II and F-16, into aerial target drones. It also serves as an auxiliary facility of the National Museum of the United States Air Force, and stores tooling for out-of-production military aircraft. AMARG's typical inventory comprises more than 4,400 aircraft, which makes it the largest aircraft storage and preservation facility in the world.
When an aircraft is going into storage, all guns, ejection seat charges and classified hardware are removed, along with clocks and data plates. Each aircraft is washed on arrival. The fuel system is protected by draining it, refilling it with lightweight oil, and then draining it again, leaving a protective oil film. The aircraft is sealed from dust, sunlight, and high temperatures. This is done using a variety of materials, ranging from "spraylat" (a white, opaque, high-tech vinyl plastic compound sprayed on the aircraft) to simple garbage bags.
Davis-Monthan has an area commonly called "Celebrity Row" or "History Row", a major stopping point on the bus tours and includes representative aircraft of the type in storage at the time. The aircraft on display in this area will vary from time to time, and year to year.
There is also an area used to store aircraft which are in the process of being reclaimed for parts. In Fiscal Year 2012, for example, AMARG "pulled" more than 10,000 parts, with a value of $472 million.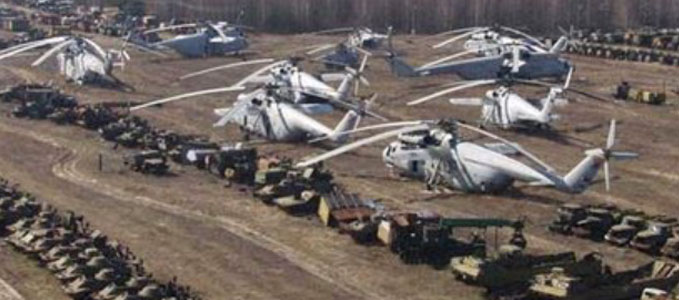 After the Chernobyl nuclear disaster, the transport means used to evacuate the area got contaminated by radiation. A whole squadron was left to grow rusty in the fields. Some of them are still there, although the place has become a "sweet spot" for marauders stealing the parts of planes, helicopters, and fire engines, which are resistant to corrosion. Thus, despite the threat of radiation, the boneyard gets smaller year by year.
The world's newest airliner boneyard at Alice Springs Airport in the Northern Territory of Australia was completed in 2013 and began operations in June 2014.