PanARMENIAN.Net - Selftravelguide.com has unveiled a list of some great Armenian mobile apps that can be very useful when traveling in Armenia - easy to use, and available for free.
HIKEArmenia
If you plan to hike in Armenia, then this is a must-have application! Created by ONEArmenia, HIKEArmenia is a free app available both for Android and iOS devices, which allows users to access hiking trails in Armenia, as well as get in touch with local hiking guides. The app is packed with pretty features, such as trail essentials (trail difficulty, length and description, sites of interest, photos), offline mode to use the app without internet connection and access necessary trail information, reviews from hikers who walked the trails, ability to contact local guides, etc. As of now, the app features only 5 trails, but the creators are working on a new version, which will include more trails to hike around Armenia.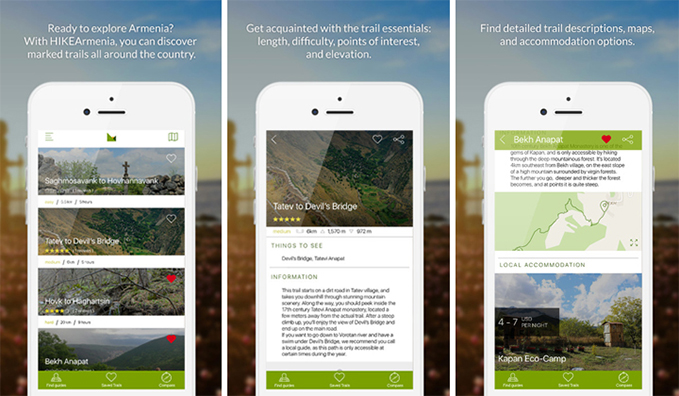 OtherYerevan
A joint project of urbanlab and University of Miami, the OtherYerevan app is somewhat a museum in your pocket. The app features cultural-architectural heritage sites in contemporary Yerevan, allowing you to explore the city on your own. A must-have app if you're particularly interested in urban architecture. There are also 6 walking routes available within the app with map views and location lists. You can follow these routes and get yourself acquainted with such areas of Yerevan as Kond, Lalayants street or Plani Glukh (Top of the Plan). Note that you'll need GPS turned on to access route maps and location lists. As of now, the app is only available for Android devices.
Yerevan Events
Launched a few years ago, the Yerevan Events app is basically your guide to the events taking place in Yerevan - exhibitions, parties, meetups, concerts, festivals, workshops, dance, art and theater and many more. It also features restaurants, clubs, pubs, cultural centers, cinemas, concert halls and other popular venues in Yerevan that you can follow and get notied about their new events.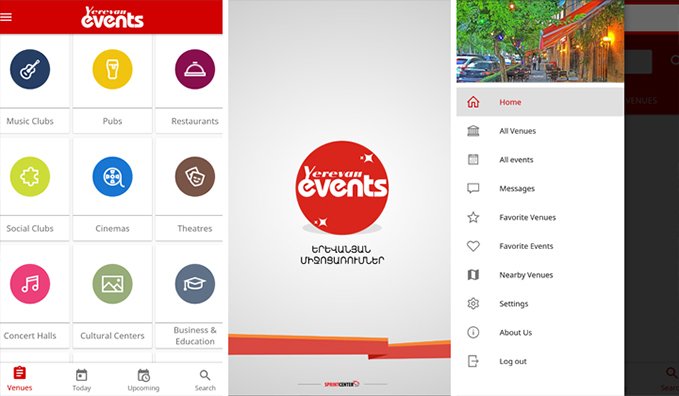 Localz
Localz is an online platform for finding local tour guides throughout the world. You simply select where you want to go and what kind of activities are you looking for, and start getting tailor-made suggestions from local tour guides. Users can request a custom tour, receive offers from high rated guides and book tours directly from the mobile device. There are currently 126 guides available in Yerevan, but the app is not limited to Armenia only. You can also use it in Austria, Italy, Georgia, Sri Lanka, Egypt and Czech Republic.
A2B Transport
The biggest problem travelers face Armenia is that there are no English signs on the roads. The good news is now there's an app for that, too. In fact, there are 2 different applications. I chose the A2B Transport app, because its routes are more accurate. The application features complete lists of all public transports (buses, mini buses, trolleybuses) and stops of Yerevan. But unfortunately, it's only available on Android devices.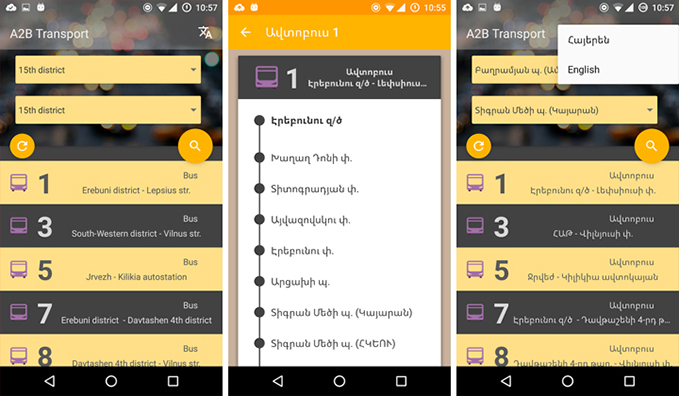 Velopark
Velopark is one gorgeous app for all cyclists visiting Yerevan/Armenia, and here's why: it allows users to detect the nearest bike parking spots, bicycle rentals, maintenance centers, shops and spare parts seller centers. The app also allows users to review and validate information, as well as add new places. But the best feature is the ability to lock your bicycle to the bike parking lot, which lets you find your bike if you somehow forget where you left it - a much-needed feature if you don't know the city well.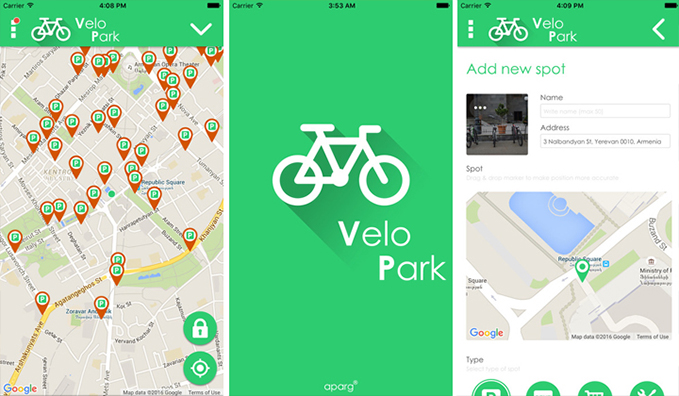 Zvartnots Airport
With the help of this app, you don't have to worry about missing your light! Install the Zvatnots app and easily monitor and follow the lights arriving to and departing from the Zvartnots international airport of Yerevan in real time. You can keep track of the lights by adding them in your favorites list, as well as receive notications about changes in the light status.
gg
Admit it, you ran into troubles with taxi drivers at least once in your journeys. Either the meter stops working, or the driver overcharges you, or he simply doesn't know the address. But this is not the case with the on-demand transportation service gg. It offers users reliable rides in Armenia (and neighboring Georgia), with drivers and vehicles chosen carefully. You can request a ride in one tap, and a driver will pick you up within 5 minutes. The app offers 4 vehicle categories - gg, ggEconom, ggBusiness and ggXL with different prices for each type. You can pay in cash, or with credit card. And at the end of the ride you can also rate the driver and share your feedback. Currently, the service is available in the following cities of Armenia: Yerevan, Gyumri, Vanadzor, Dilijan, Ijevan, Abovyan, Sevan, Hrazdan, Etchmiadzin, Ashtarak and Kapan. Note that you will need a phone number to use the service.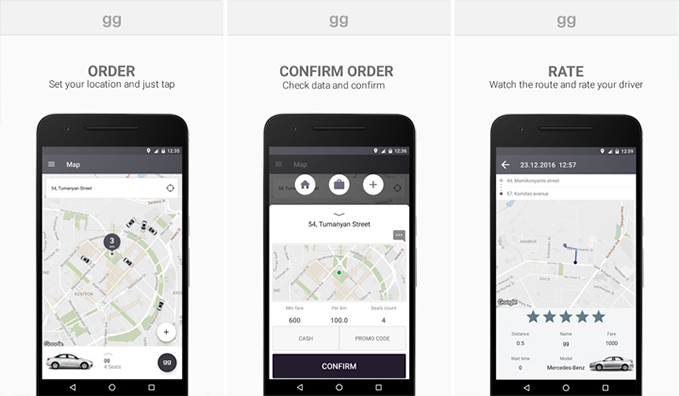 Rate.am
Finding a good currency exchange rate when traveling to a new country can be a bit of a trouble. Luckily, with this app, you don't have to worry when visiting Armenia. Available both for Android and iOS devices, the Rate.am app provides users with live exchange rates from Armenian banks and registered exchange stores. Use it to find the best exchange rate, or locate the nearest bank or currency exchange store.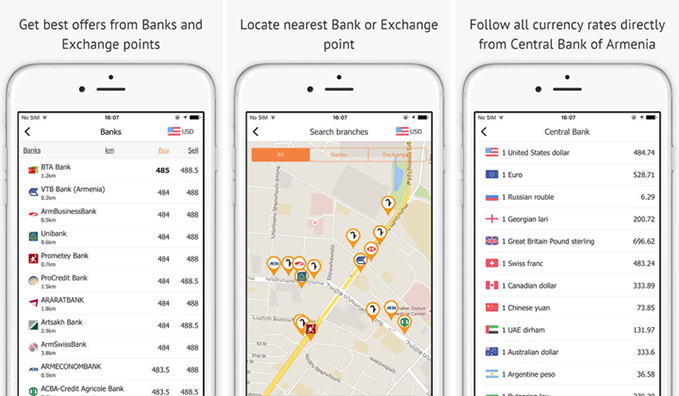 SPYUR - Armenia Yellow Pages
The name speaks for itself. Spyur service app provides users with information on over 10000 companies, organizations and state structures of Armenia and Artsakh. You can search companies by name, or by category, view the company's address, phone numbers, location on the map, etc. Hot lines, state authorities, pharmacies and medical centers, taxi services, restaurants, banks, hotels and many more, and guess what - all this information is available online.